Last Updated on July 1, 2023 by Göran Ingman
The Vasa Museum is one of the most popular attractions in Stockholm – for a very good reason. This unusually well preserved war-ship is really an amazing experience.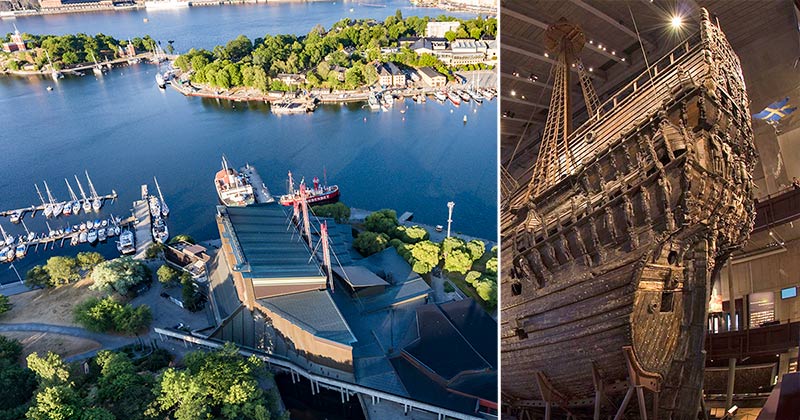 August 10th 1628 was a windy, sunny day. The citizens of Stockholm had gathered on the shores to see the huge war-ship Vasa sail off. It was a day of pride. Sweden was back then one of Europes greatest powers.
But as the wind caught the sails the ship started to tilt. Soon enough it started to sink, just 1200 meters from the shores of Stockholm. And there, on the bottom of the Baltic, she stayed for 333 years …
The Vasa Museum is a must-see
When in Stockholm there is one attraction you just cannot miss: the Vasa Museum. The Vasa is the worlds most well-preserved warship from the 17th century and 98 percent of what you see is original material. The reason why it is so well-preserved is due to the lack of shipworms in our brackish waters.
Walking through the doors of the museum the ship strikes you as both gorgeous and enormous with its 64 canons and beautifully carved sculptures. Try and imagine what it looked like back when it was all painted in bright colours!
The king Gustav II Adolf wanted to "show off" and let the enemies know that Sweden aspired to rule as much as possible of Europe.
A great way to learn Swedish history
But as the ship sank the Vasa became more of an embarrassment. It soon became clear that it was too tall, too heavy and too narrow to sail properly. It stayed under water until it was salvaged in 1961.
Visiting the Vasa ship is a great way of getting to know Swedish history when we were a great power in the 17th century. And it is entertaining and impressive no matter how old or young you are.
Don't forget to take the stairs down to see the skeletons of some of the members of the crew. Or visit the replica of the ships deck where it is difficult to stand up straight if you are tall – but that was life on board!
Local expert, travel writer (visited 50+ countries), and I've been living in Stockholm for more than 20 years. My mission with this travel guide is to give you the best possible advice for your visit to Stockholm and to share tips on my own personal favorites in this beautiful city.