Last Updated on September 30, 2019 by
Stockholm rooftop bars are extremely popular among the trendy Stockholm crowd. Of course you want to join them! We've listed ten of the hippest, flauntiest, and friendliest rooftop bars right now.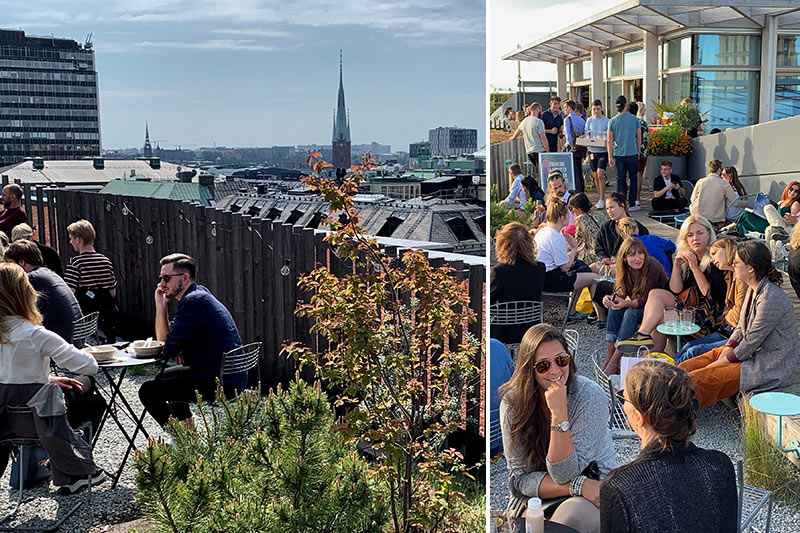 It's not hard to imagine why the rooftop bars in Stockholm have popped up in, what seems to be, every corner of the city.
Brilliant views, wonderful drinks, and amazing outdoor feeling, the rooftop bars offer something the indoor ones never could: A different side of Stockholm.
Hanging out at one of the rooftop bars is a brilliant way to get to know the city from above, all whilst having a glass of your favorite drink close at hand.
10 Stockholm Rooftop Bars
We've listed ten of the best rooftop bars in Stockholm. They all offer something unique and extraordinary and will, of course, present a beautiful panorama over the capital of Scandinavia.
SUS
SUS, or Stockholm Under Stjärnorna (Stockholm Under the Stars), is a wonderful rooftop bar with a name that suggests just what it's about: A wonderful view outside, in the open air, offering a beautiful nightly view.
The rooftop bar offers a wide range of festivities throughout the season and is best described as a summer-long festival. All on a humongous space of 1200 square meters, which is approximately 13 000 square feet.
Takparken by Urban Deli
Another rooftop terrace with plenty of space is Takparken by Urban Deli. Takparken is even translated as "the roof park", a fitting name for this impressive rooftop bar.
Open throughout the summer, this particular place is perfect for those of you that want to relax in an atmosphere ruled by the openness (quite literary) and by the vegetation put in every corner to really set that park vibe.
You can't reserve a table in advance, so if it's a sunny day: Be there early!
TAK
Famous, trendy, and perhaps a bit flaunty, this rooftop bar is something extra. Located on the 14th floor, the 360-view is no joke. From here you'll see most of Stockholm while enjoying one of their signature cocktails, beers, or their wide selection of wine.
Everything with TAK is polished, making their Asian inspired lunches and afternoon BBQs picture-perfect. At TAK events is second nature, so if you, for instance, want to do yoga with an excellent view, this is the place.
TAK is located on top of the hotel At Six, one of our best recommendations if you're looking for a hotel in Stockholm.
The Winery Hotel
Want to watch a sunset from an industrial style rooftop bar and have a glass of wine while you're at it? Well, in that case, the Winery Hotel is the perfect place for you. Here you'll have a 360-view of the Stockholm suburb of Solna and a heated pool for the ultimate relaxation (although only available to the hotel guests).
Sit down, relax, and treat yourself to some freshly made food from the rooftop kitchen.
Gondolen
Gondolen's restaurant is a true Stockholm classic. First established in 1979 they know what they're doing. When it comes to longevity, the rooftop bar is not far behind, living through its 25th season in 2019. Hanging like a bridge between the KF building and the Katarina Elevator, this rooftop bar, Taket, is something else.
Enjoy some of their signature cocktails, listen to some live music, and marvel at the astonishing view over the Old Town as well as the amusement park Gröna Lund, all from 12 floors up.
Arc
The rooftop bar Arc, at Blique by Nobis in Vasastan, is a trendy place inspired by both Asia and Europe when it comes to food and drinks.
Not placed in the busiest parts of Stockholm, this rooftop bar has the advantage of a bit more local touch, leaving space to a friendly, Swedish atmosphere. It's a bit pricey but the view and their signature cocktails sure make up for it.
www.bliquebynobis.se/en/food-drinks
Pane Fresco
Well now, most of the other rooftop bars put the M in modern but that is not the way rooftop bar Pane Fresco works. Inspired by Naples, this Italian style restaurant will gladly offer you anything from pasta to pizza alongside a glass of wine, beer, or cocktails – all Italian, of course.
And for the ultimate Italian feeling, you can treat yourself to an after-lunch grappa before you head out to the city buzz again.
panefresco.se/stockholm-ahlens
Scandic Anglais Terrassbaren
Scandic Anglais Terrace Bar is not like other rooftop bars. First of all, it's in the middle of a busy nightlife district but secondly, despite its location, it's still not that well-known. This means that Scandic Anglais is the perfect after work type of place.
Take a few friends, grab a few drinks, and relax in the sofas while the summer night lowers over you. And when you feel like it, hitting the dance floor is only a few steps down the road.
www.scandichotels.com/scandic-anglais/terrace-bar
Mosebacketerrassen
You may have realized that the Stockholm rooftop bars are blooming at the moment, especially the sky-high versions – so let us present a different option to you. Mosebacketerassen does offer an astonishing view but it's not your typical 12th-floor rooftop bar.
Instead, here you'll enjoy a panorama from a terrace on the 2nd floor on a hillslope, giving you the most fantastic view over the amusement park Gröna Lund and the lake that makes Stockholm everything it is: Mälaren.
Visitors swear on the Biergarten feel and the folksy vibe and it's not hard to see why Mosebacketerrassen is one of the most popular places to go in summer.
sodrateatern.com/mosebacketerrassen
Capital at Scandic Continental
Just arrived at Stockholm Central Station and need a break from the travel hustle? We've got a close and convenient option for you.
Capital at Scandic Continental is located just outside the central station, becoming the given option for those that need a pick-me-up upon arrival.
This rooftop bar has the advantage of having sun from the beginning of the day until the very evening. With its unique international vibe, this 8th-floor rooftop bar offers a wide range of drinks, everything from signature cocktails to an excellent selection of both beer and wine.
www.scandichotels.se/scandic-continental/capital
Stockholm Rooftop Bars – quick facts!
• You must be at least 18 years old to buy alcohol in a bar or restaurant in Sweden.
• Bring a passport or photo ID if you are young – your just look like you are 😉 Bartenders will check your age.
• Many bars in Stockholm have stopped using cash, so make sure that you have your bank card or credit card with you.
• The Rooftop Bars in Stockholm are usually best visited quite early in the evening, when it's still warm and nice outside. In the middle of the summer there can be wonderful days when the summer heat lingers well into the night, but we don't get too many of them.
(Photos: Takpark by Urban Deli)
Local expert, travel writer (visited 50+ countries), and I've been living in Stockholm for more than 20 years. My mission with this travel guide is to give you the best possible advice for your visit to Stockholm and to share tips on my own personal favorites in this beautiful city.