Cheap hotels and budget accommodation in Stockholm
CHEAP HOTELS IN STOCKHOLM. Stockholm is one of the worlds most expensive hotel cities. The average price for a hotel night is 260 USD and it can be hard to find cheap accommodation. Here are our recommendations.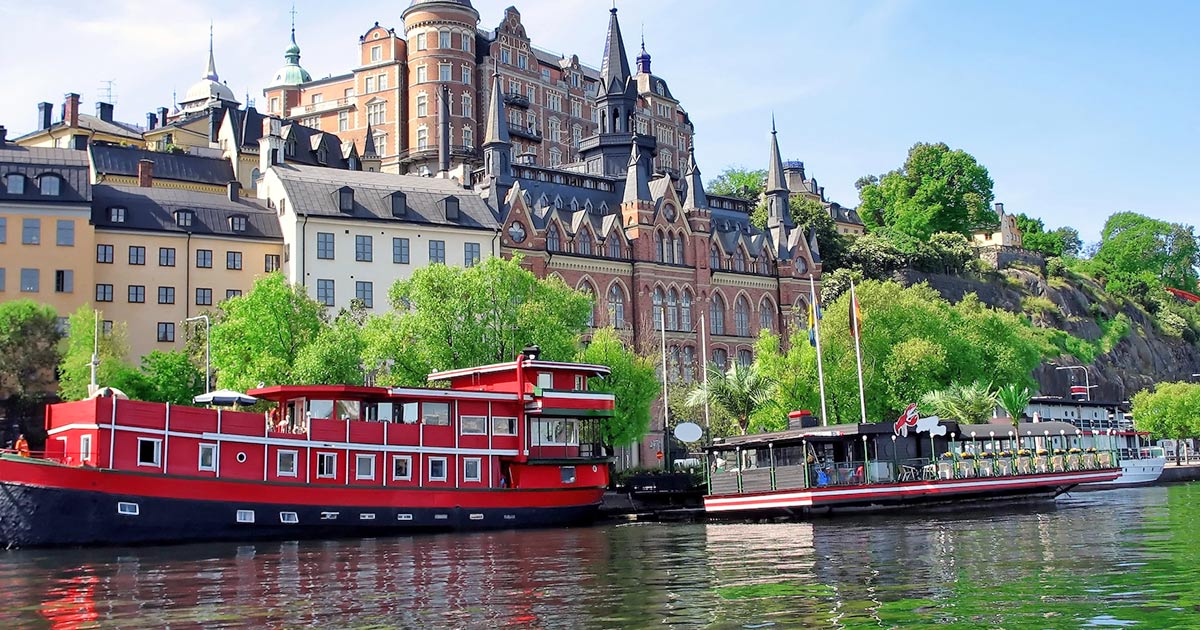 So you're not prepared to pay too much for a place to stay – but you still want it to be clean, safe and not to far from the city center. Right? You and almost everyone else 😉
In Stockholm this can be a bit tricky, but we've done our best to find budget accommodations and cheap hotels that we truly can recommend.
Cheap hotels and hostels in Stockholm
Archipelago Hostel Old Town
This popular hostel is located in a 17th century building in the Old town. The location is perfect for exploring Stockholm. It's clean, nice and the staff is lovely. A room with two beds start at approx 60 USD, and that's a very good deal. The only drawback here is that you'll have to share bathroom with other guests.
» Price and reservation
Interhostel
Very central location and a price tag that can't be beat in this part of Stockholm. Rooms starts at 55 USD, a bed in a dormitory starts at approx 20 USD. Hugely popular among backpackers and young travelers. Bike rental on site.
» Price and reservation
Old Town Lodge
Great reviews from previous guests, clean and well-kept, amazing staff – and a very good location in the Old town. Old Town Lodge is one of the best choices for budget accommodation in Stockholm. Free tea and coffee, free wifi. Single rooms from 60 USD, double rooms from 80 USD and beds in dorms from 45 USD. Book well in advance.
» Price and reservation
M/S Birger Jarl
Fancy staying on a boat? Alright, then. M/S Birger Jarl is a charming choice offering both hotel and hostel type of accommodation. The most expensive room is a Double Superior with private bathroom, with a price starting at 140 USD per night. The cheapest option is a single cabin with shared bathroom, from 50 USD. Breakfast is included for all guests.
» Price and reservation
Röda båten
Another maritime budget choice. Röda båten (The Red Boat, see image above) is actually two ships anchored together in Riddarfjärden in central Stockholm. There's a restaurant, a bar, and a couple of terraces that can be lovely for sunbathing in the summer. Simple, but clean and friendly. Breakfast can be bought for just 10 USD. Beds in dorm style rooms from 25 USD, rooms range from 40 to 160 USD depending on size, season and amenities.
» Price and reservation
Vanadis Hotell & Bad
A budget hotel with a pool and roof top terrace, how about that? The location in Vasastan is not super central, but it's located within the city and there's a bus stop close to the hotel. Buses will take you to the central station in 15 minutes. The cheaper rooms have shared bathrooms, the more expensive ones have private bathrooms. Breakfast and wifi is included in all room prices.
» Price and reservation
Hostel Dalagatan
Close to the big and beautiful city park Vasaparken and just ten minutes quick walk to the central station. Many of the attractions in Stockholm are within walking distance, and there's also a subway station nearby. Beds in dorms from 15 USD, private rooms from 60 USD.
» Price and reservation
Acco Hostel
Staying in the area of Södermalm is a really nice experience. It's a bit more laid back, a little more bohemian, than the rest of Stockholm and there are lots of great cafés, restaurants and cool shops. At Acco Hostel you can stay from approx 15 USD if you go for a bed in a dormitory. The most expensive (but still very cheap) option is a single room, with a price starting at 50 USD.
» Price and reservation