Last Updated on July 1, 2023 by Göran Ingman
Things to do in Stockholm? Glad you asked 🙂 We've decided to create this mini guide to our city's finest sights and attractions. Make sure to visit at least some of them, or we'll send the Vikings after you.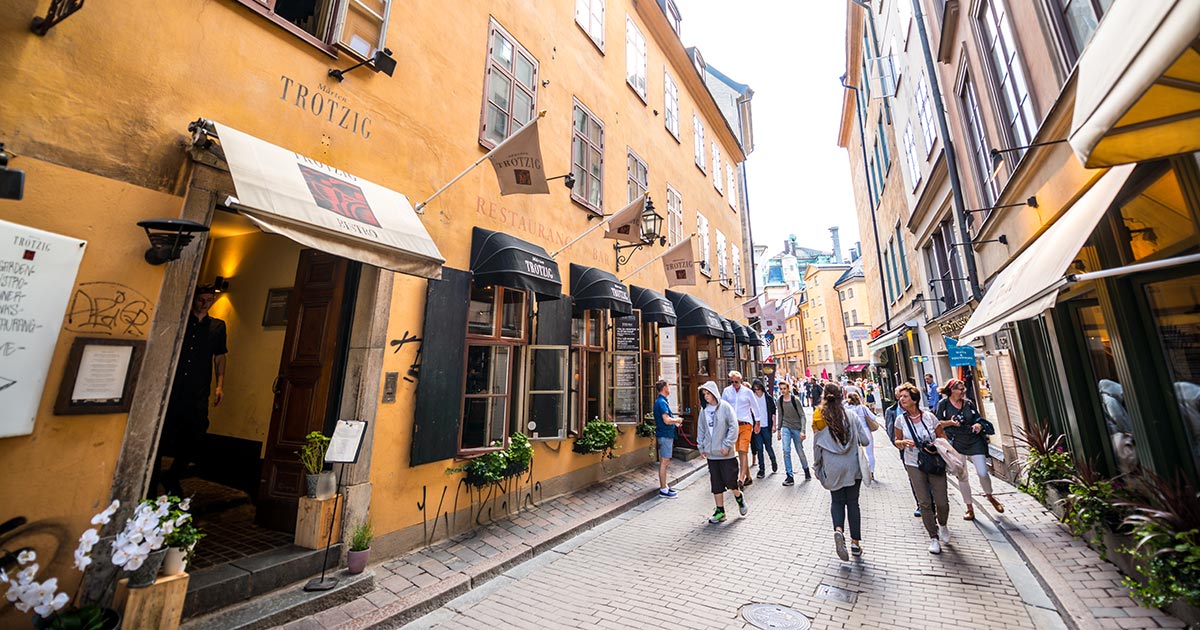 Stockholm is, as you may know, quite small compared to other capitals of the world. But thanks to its long and rich history, the city has a lot of interesting things to see and exciting places to go.
You need a lot of time to cover them all, more time than the average visitor usually has. So, for you that's not blessed to be living in our wonderful city, here are the attractions you just can't miss.
---
---
Vasa Museum – worship the warship
Almost 400 years ago, in 1628, the warship Vasa sank on her maiden voyage, just outside the harbor of Stockholm. For many years she laid forgotten on the bottom of the ocean.
But in 1961 the wreckage was salvaged, and the ship turned out to be in surprisingly good shape. In 1988 the Vasa Museum opened, and it has since then been one of the most popular attractions not just in Stockholm, but in entire Sweden.
» Vasa Museum tours and tickets
The Royal Palace
Indulge in the grandeur of the Royal Palace, the official residence of the Swedish royal family. Wander through opulent halls, witness the changing of the guards, and marvel at the royal apartments adorned with exquisite furnishings and artwork.
Don't miss the chance to explore the Royal Armory, which houses an impressive collection of royal costumes, armor, and carriages.
Skansen – museum & zoo
What do nature loving Scandinavians do when we plan for a museum? We're like: "No walls, no roof, let's build an outdoor museum!" That's at least how we figure the guys we're thinking back in the 1890's when Skansen was inaugurated.
Today you can find 140 different buildings from all over Scandinavia at the museum, showing visitors what it was like to live here in the older days. Skansen is also home to lots and lots of animals. From moose, wolfs, bears, seals, otters and plain old cows, to monkeys, snakes and spiders.
This is a great place for visitors of all ages. Make sure you have plenty of time, you can easily spend the whole day here.
ABBA: The Museum
Experience the phenomenon of one of Sweden's most beloved musical groups at ABBA: The Museum. Immerse yourself in the world of ABBA through interactive exhibits, iconic costumes, and immersive music experiences.
Dance and sing along to their greatest hits, and uncover the fascinating stories behind the band's rise to stardom.
» Book ticket for ABBA: The Museum
Vikingaliv – brand new viking museum
Grrr. How can we not love this?! Vikingaliv is a quite new museum, it opened in the spring of 2017, and it is dedicated to all things Viking. The experience is based on historical facts and the most recent findings of Viking history.
Facts are presented playfully, and interactively. Vikingaliv promises to "treat you to illusions, fantasies, and exciting tales." And it does. Trust us. Just go, already. But be warned: You will be disappointed to learn the truth about the headwear of the Vikings. Just saying.
Fotografiska museet – photos and more
We've got a lot of museums in Stockholm. More about them on our museums page. But for now, let us just say one word: Fotografiska. This museum is fairly new (for being a museum), it opened in 2010, but quickly became one of the best ones in town.
It's a photo museum, but you don't have to be a photography buff to enjoy it. Anyone with functioning eyesight will love this place. Hate photos and masterfully curated collections? Ok. Just go for the awesome restaurant then.
» Fotografiska tours and tickets
Old Town – no 1 of things to do in Stockholm
Actually, we shouldn't mention this place. You'll wind up here anyway. Stockholms Old Town is on every tourists to do-list, and for a good reason. For most visitors it's probably number on their list over things to do in Stockholm.
It's charming, picturesque, slightly mysterious and very wonderful. We love it a lot. A bit crowded in the summer? Yes. But just avoid the main streets and you'll be fine.
Stockholm City Hall
Marvel at the architectural splendor of Stockholm City Hall, an iconic landmark famous for hosting the annual Nobel Prize banquet. Join a guided tour to admire the intricate interiors, including the opulent Golden Hall, adorned with more than 18 million gold mosaic tiles.
Climb the tower for panoramic views of Stockholm's skyline, where you can witness the city's beauty from above. Tickets are limited and you buy them in the shop at Stadshuset.
Skogskyrkogården (The Woodland Cemetery)
Escape to a place of tranquility and reflection at Skogskyrkogården, a UNESCO World Heritage site and one of the most renowned cemeteries in the world.
Designed by architects Gunnar Asplund and Sigurd Lewerentz, this stunning cemetery blends nature and architecture seamlessly. Take a leisurely stroll amidst the serene woodland surroundings and visit the unique chapels and memorials that grace the landscape.
Moderna Museet (Museum of Modern Art)
Embrace the world of contemporary art at Moderna Museet, home to an impressive collection of modern and contemporary works. From Picasso and Warhol to local Swedish artists, the museum showcases a diverse range of artistic expressions.
Don't miss the chance to explore the museum's sculpture garden, offering a tranquil oasis in the heart of the city.
Djurgården – the pretty green island
Escape the bustling city and venture into Djurgården, a lush green island known for its parks, museums, and recreational spaces.
Discover the wonders of Skansen, an open-air museum showcasing traditional Swedish life. Djurgården is also home to the iconic amusement park Gröna Lund, offering thrilling rides and live entertainment for all ages.
Local expert, travel writer (visited 50+ countries), and I've been living in Stockholm for more than 20 years. My mission with this travel guide is to give you the best possible advice for your visit to Stockholm and to share tips on my own personal favorites in this beautiful city.