Things to do in Stockholm? Well, you're not the first one to ask 🙂 So we decided to create this constantly changing mini guide to our city's finest sights and attractions. Make sure to visit these, or we'll send the Vikings after you.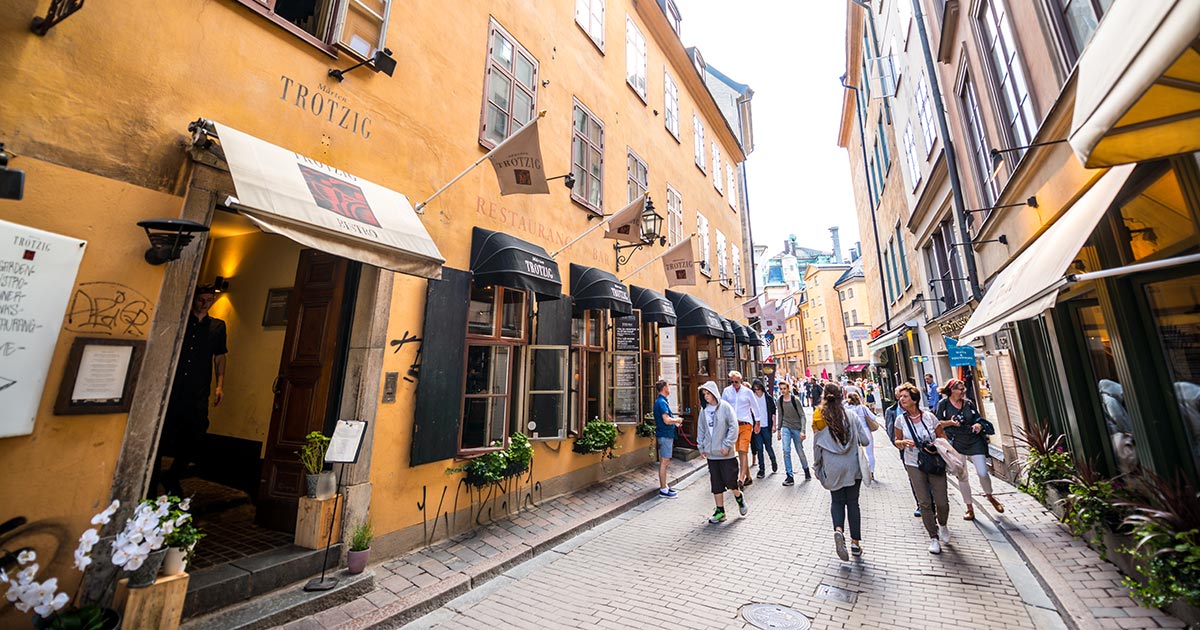 Stockholm is, as you surely know, quite small compared to other capitals of the world. But thanks to its long and rich history, the city has a lot of interesting things to see and exciting places to go.
You need a lot of time to cover them all, more time than the average visitor usually has. So, for you that's not blessed to be living in our wonderful city, here are the attractions you just can't miss.
Vasa Museum – worship the warship
Almost 400 years ago, in 1628, the warship Vasa sank on her maiden voyage, just outside the harbor of Stockholm. For many years she laid forgotten on the bottom of the ocean. But in 1961 the wreckage was salvaged, and the ship turned out to be in surprisingly good shape. In 1988 the Vasa Museum opened, and it has since then been one of the most popular attractions not just in Stockholm, but in entire Sweden.
www.vasamuseet.se/en
» Vasa Museum tours and tickets
Skansen – museum & zoo
What do nature loving Scandinavians do when we plan for a museum? We're like: "No walls, no roof, let's build an outdoor museum!" That's at least how we figure the guys we're thinking back in the 1890's when Skansen was inaugurated. Today you can find 140 different buildings from all over Scandinavia at the museum, showing visitors what it was like to live here in the older days. Skansen is also home to lots and lots of animals. From moose, wolfs, bears, seals, otters and plain old cows, to monkeys, snakes and spiders. This is a great place for visitors of all ages. Make sure you have plenty of time, you can easily spend the whole day here.
www.skansen.se/en
» Skansen tours and tickets
Vikingaliv – brand new viking museum
Grrr. How can we not love this?! Vikingaliv is a brand-new museum, it opened in the spring of 2017, and is dedicated to all things Viking. The experience is based on historical facts and the most recent findings of Viking history. Facts are presented playfully, and interactively. Vikingaliv promises to "treat you to illusions, fantasies, and exciting tales." And it does. Trust us. Just go, already. But be warned: You will be disappointed to learn the truth about the headwear of the Vikings. Just saying.
www.vikingaliv.se/en

Fotografiska museet – photos and more
We've got a lot of museums in Stockholm. More about them on our museums page. But for now, let us just say one word: Fotografiska. This museum is fairly new, it opened in 2010, but quickly became one of the best in town. It's a photo museum, but you don't have to be a photography buff to enjoy it. Anyone with functioning eyesight will love this place. Hate photos and masterfully curated collections? Ok. Just go for the awesome restaurant then.
fotografiska.eu/en
» Fotografiska tours and tickets
Old Town – no 1 of things to do in Stockholm
Actually, we shouldn't mention this place. You'll wind up here anyway. Stockholms Old Town is on every tourists to do-list, and for a good reason. For most visitors it's probably number on their list over things to do in Stockholm. It's charming, picturesque, slightly mysterious and very wonderful. We love it a lot. A bit crowded in the summer? Yes. Just avoid the main streets and you'll be fine.
» Old Town tours and tickets