Last Updated on July 1, 2023 by Göran Ingman
Abba The Museum opened in Stockholm in 2013 and is an interactive exhibition about the pop phenomena that put Sweden on the map.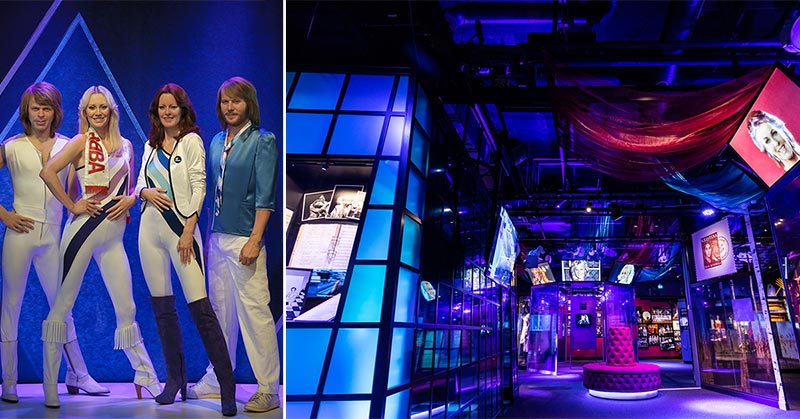 Meatballs, dynamite and ABBA – the pride and joy of Sweden! The latter, ABBA, is perhaps our most celebrated contribution to the world.
If you've been living under a rock – or if you were born in the 21st century – ABBA is a Swedish pop group famous for hits such as Mamma Mia, Dancing Queen, and Waterloo – which won them the Eurovision Song Contest in 1974 and international fame.
A brief history of ABBA
ABBA was formed in 1972 by Agnetha Fältskog, Björn Ulveus, Benny Andersson and Anni-Frid "Frida" Lyngstad. The group has sold over 400 million records worldwide and is Sweden's most successful music export of all time.
ABBA was included in the Rock and Roll Hall of Fame in 2010, and in Swedish Music Hall of Fame in 2014. The group split up in 1982 and reunited in 2018.
ABBA the Museum – all things ABBA
Located in beautiful Djurgården, ABBA the museum is not just a museum – it's an interactive experience. The exhibition includes quizzes, several reconstructed environments, original items and interactive features.
You don't just observe items – you get to listen, dress up, sing, play and feel like you're the fifth member of ABBA.
Step into Polar Studios, where ABBA recorded their last three albums, and sing your own versions of the songs.
Dress up in original stage costumes and perform with ABBA on the hologram stage. Everything you do can be recorded and downloaded through a barcode on your admission ticket.
The memorabilia on display used to belong to ABBA – clothes, photos, notes, letters from fans, Benny's piano, Björn's guitars, Agnetha's and Frida's microphones, gold records and much more.
Visitors can also listen stories and memories told by the members of the group through an audio guide.
ABBA the Museum – book tickets
Tickets to the museum can easily be booked here. Just choose your date and book securely with our partner Viator.
The tickets can be printed or shown as mobile tickets, it's up to you. You may cancel the reservation up to 24 hours before your selected date and get a full refund.
Pop House Hotel – stay next to the museum
This stylish hotel is located in the same building as ABBA The Museum and 10 minutes from the city centre.
You're close to Skansen (the world's oldest open air museum), Gröna Lund (the oldest amusement park in Sweden), and several jogging paths surrounded by beautiful nature and fresh air.
Pop House has 49 striking rooms, some of them with music themes such as Mamma Mia, The Party Room, and ABBA Gold Room.
» Read more & book Pop House Hotel
» Our favorite hotels in Stockholm
(Photos: Pål Allan/ABBA The Museum & Love Strandell/ABBA The Museum)
Local expert, travel writer (visited 50+ countries), and I've been living in Stockholm for more than 20 years. My mission with this travel guide is to give you the best possible advice for your visit to Stockholm and to share tips on my own personal favorites in this beautiful city.