Last Updated on March 1, 2018 by
SHOPPING IN STOCKHOLM. If you are on your way to the Swedish capital, you are probably more than thrilled to find out about all the shopping places there. Famous for its simple but edgy style, Sweden does not only have H&M to be proud of.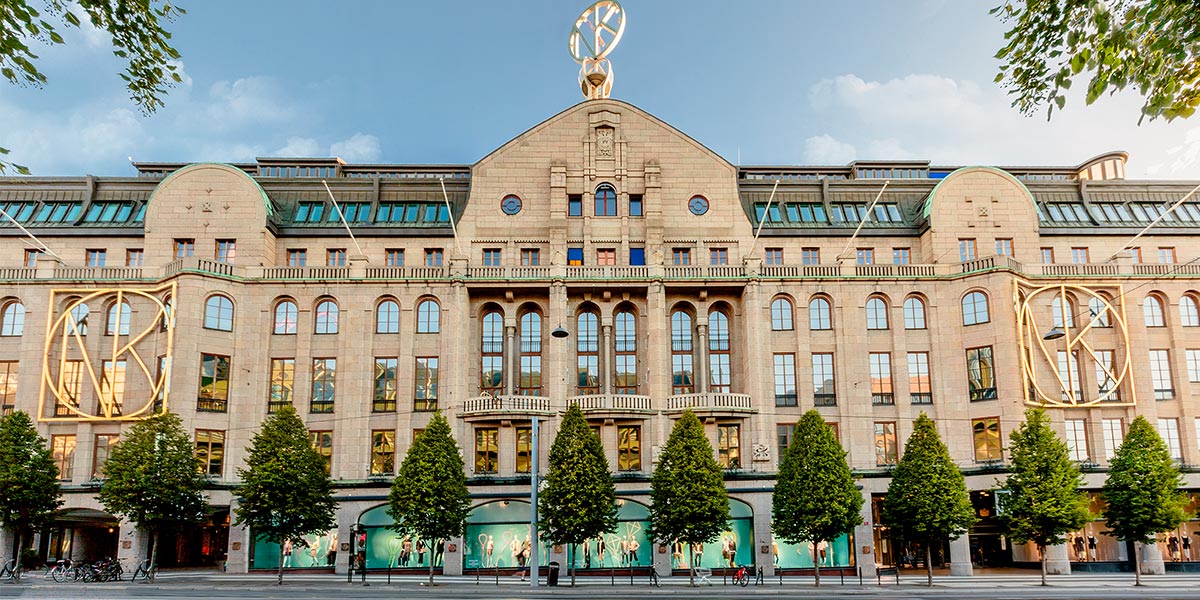 The Scandinavian fashion consists in wearable plain outfits and pieces and there are several brands to consider while you are here. The country is also known for its home furnishings and textiles and if you do not feel like taking the bus to IKEA, you can discover several inspiring stores in Stockholm as well.
Once you know the spots and where to go, you will see that Stockholm is a haven for fashionistas and shopaholics. In addition, garments and interior decorations are generally sold to reasonable prices and you can always find something that suits your taste.
NK
In the city centre you can visit the department store NK. It is easy to spot because of its spinning NK sign on the roof top. Here is where the well-heeled shop everything from perfume and cosmetics to clothes, shoes, accessories and fine food.
The basement covers kitchenware and artglass as well as expensive chocolates so you can walk around for hours without getting bored.
www.nk.se/stockholm/in-english
Gallerian
Across the street from NK you will see Stockholm's oldest shopping mall, Gallerian. Very busy and crowded and full of nice, cheap shops and eateries. Make sure not to miss out on the frozen yoghurt stand in the middle.
gallerian.se/in-english
Biblioteksstan
When you exit NK, just turn left and follow the street towards Norrmalmstorg and you will end up on Biblioteksgatan and the surrounding streets.
You can find plenty of shops such as & Other Stories, Sephora, Marlene Birger and Diesel. When you are tired of walking, take a seat in the busy but genuine café Wienercaféet for a Swedish "fika".
www.bibliotekstan.se/en/
Åhléns
One of the most popular stores in Sweden is called Åhléns. In Stockholm, this four-floor department store is situated in both Vasastan, Östermalm and at the intersection at Hamngatan and Drottninggatan.
They sell absolutely everything from designer goods to cheap soap. If you are hungry, feel free to rest your feet in the relaxed and friendly restaurant and café at the ground floor.
www.ahlens.se/cms/in-english
Weekday
If you have come to Stockholm you would probably want to shop in a typical Swedish clothing store, After having quit the Åhléns entrance, turn left and continue your stroll on Drottninggatan. Keep on the left side of the street and a couple of hundred yards later, you will end up outside Weekday.
The store sells typical Swedish fashion in a nutshell and the clothes are quite cheap. On the second floor, you have a great vintage boutique providing everything you can imagine. The same store is also situated at Götgatan in the southern part of the city.
www.weekday.com/en_gbp/index.html
Mood
One of the most popular shopping malls for Stockholmers is Mood. Only 6 years old, this shopping centre provides great clothes, good food and spots for cosy hangouts. Mood is close to both NK and Biblioteksstan so you could really kill two birds with one stone.
moodstockholm.se/about-us/?lang=en
Mall of Scandinavia
The newest and largest shopping mall in Sweden is Mall of Scandinavia which has quickly become the most favourite spot in Stockholm. It is situated in Solna, seven minutes from the Stockholm city centre and includes a great deal of shops, offices, restaurants and an IMAX cinema theatre.
To get here, get on the commuter train bound for Uppsala and exit at Solna Station adjacent to the mall. You can also take the blue subway line and exit at the Solna Centrum, and walk for about ten minutes. Another option, depending on where you start, is to catch the light rail line "Tvärbanan" and get off at Solna Station.
mallofscandinavia.se/en
Svenskt Tenn
Swedish people are proud of their indigenous brands and products and if you are interested in decoration and furnishings, you simply must take a glance at Svenskt Tenn. Very, very pricey but astonishing and stylish right to the point. If you can afford it you should pop in for tea at the elegant but small tea salon on the second floor.
www.svenskttenn.se/en
Local expert, travel writer (visited 50+ countries), and I've been living in Stockholm for more than 20 years. My mission with this travel guide is to give you the best possible advice for your visit to Stockholm and to share tips on my own personal favorites in this beautiful city.