Last Updated on July 3, 2023 by Göran Ingman
When it comes to layovers or overnight stays before catching a flight, having a comfortable and conveniently located hotel near Arlanda Airport can make all the difference. Here, we've compiled a list of the top 5 hotels close to Arlanda Airport that offer comfort, convenience, and a range of amenities to suit every traveler's needs.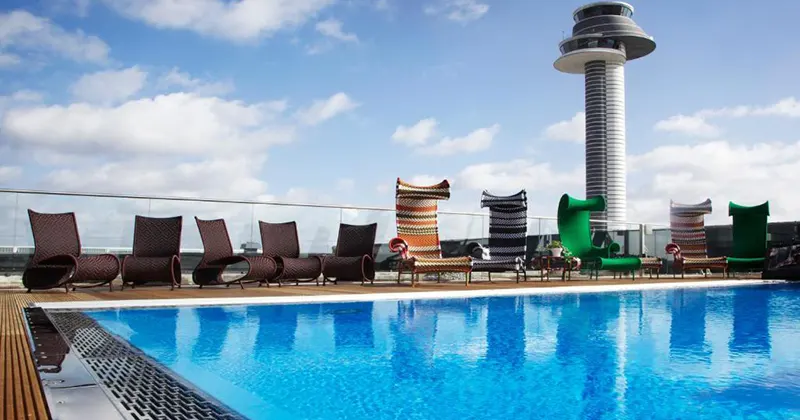 1. Clarion Hotel Arlanda Airport
Situated within short walking distance from Arlanda Airport's SkyCity, the Clarion Hotel Arlanda Airport offers modern and stylish accommodation. The hotel features comfortable rooms with sleek designs and amenities such as flat-screen TVs, minibars, and free Wi-Fi.
Guests can indulge in a variety of dining options, including a rooftop restaurant with panoramic views. The hotel also boasts a nice outdoor pool, a fitness center, sauna, and easy access to transportation links.
2. Radisson Blu Arlandia Hotel
The Radisson Blu Arlandia Hotel is a top choice for travelers seeking convenience and comfort. Located just a few minutes from the airport terminals, this modern hotel offers spacious and well-appointed rooms with contemporary designs.
Amenities include free Wi-Fi, flat-screen TVs, fitness facilities, and a relaxing sauna. The on-site restaurant serves delicious international cuisine, and the hotel also offers a complimentary shuttle service to and from the airport.
3. Radisson Blu Airport Terminal Hotel
The Radisson Blu Airport Terminal Hotel is a superb choice for those who prefer to stay directly within the airport premises. Connected to Terminal 5, this hotel offers modern and soundproofed rooms with comfortable beds and amenities such as flat-screen TVs, minibars, and free Wi-Fi.
Guests can enjoy delicious meals at the on-site restaurant, and the hotel also provides a fitness center and sauna for relaxation.
4. Connect Hotel Arlanda
The Connect Hotel Arlanda offers a budget-friendly option without compromising on comfort and convenience. Located just 10 minutes from the airport, this eco-friendly hotel features modern rooms with Scandinavian designs, comfortable beds, and amenities such as flat-screen TVs and free Wi-Fi.
Guests can enjoy a complimentary breakfast buffet, and the hotel provides a free airport shuttle service for easy access.
5. Jumbo Stay – sleep in a Boeing 747!
If you're looking for a unique and memorable experience, Jumbo Stay is an excellent choice. This one-of-a-kind hotel is located inside a retired Boeing 747 aircraft near Arlanda Airport. Guests can choose from a variety of rooms, including cockpit suites and dormitory-style accommodations. The hotel features a café, a bar, and a terrace with panoramic views. Complimentary shuttle service to and from the airport is provided.
Stockholm Arlanda Airport Hotels on the map
Hotels near Arlanda airport summary
These hotels near Arlanda Airport provide convenient access, comfortable accommodations, and a range of amenities to ensure a pleasant stay. Whether you're on a layover or in need of a hotel before your flight, these options cater to different preferences and budgets, allowing you to relax and prepare for your journey with ease.
The hotels close to the airport are popular and it's not always easy to find a room on short notice, especially during holidays or over the summer high season. So it's recommended that you make your reservation well in advance.
Find more hotels near Arlanda Airport here
Here's our main page about hotels in Stockholm
---
When you book something using links in our articles we may earn a small commission, but at no extra cost to you. Also, that does not influence the advice we give. We do not accept money for mentions, reviews or placements on the page.
---
Local expert, travel writer (visited 50+ countries), and I've been living in Stockholm for more than 20 years. My mission with this travel guide is to give you the best possible advice for your visit to Stockholm and to share tips on my own personal favorites in this beautiful city.