Last Updated on November 14, 2019 by
The best vegetarian restaurants in Stockholm offer excellent veggie food that will make you wonder why you don't always eat like this – or maybe you do. Either way, here are 10 of the best vegetarian restaurants in Stockholm!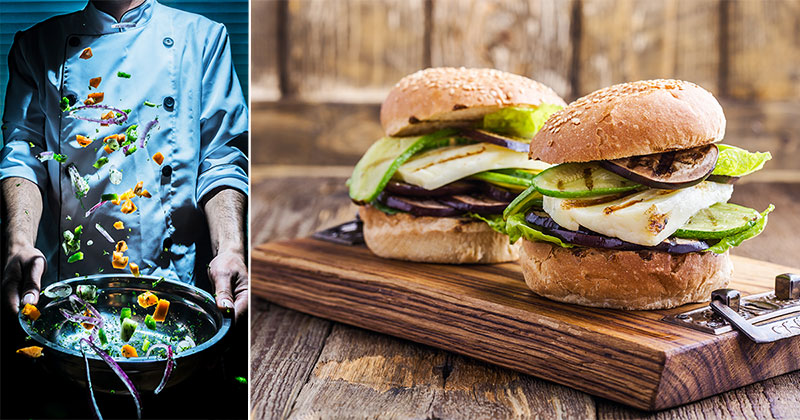 Tasty, yummy, and a whole lot of nomnomnom – that's what the vegetarian restaurants in Stockholm are all about.
We've made a list of the 10 best vegetarian restaurants in Stockholm right now. Dig in!
10 best vegetarian restaurants in Stockholm
Rutabaga
Rutabaga is an obvious choice for those who want an exceptional dinner. The restaurant's minimalistic approach allows what's on the plate to speak for itself, making any option for dinner perfect in its own way.
Rutabaga doesn't constrain itself by a single line of inspiration. Instead, they see the entire world as their inspiration, allowing the vegetarian menu to be very versatile.
This is not a cheap restaurant but the food is, indeed, exceptional. If you're in the mood you can book a chef's table, making the experience that much deeper with information from the chefs themselves about how the ingredients work together in every dish.
Tabbouli Street
From an expensive restaurant to a cheaper alternative. Tabbouli Street is all about large portions to a reasonable price, you do get a lot for your money.
Located in Norrmalm, where there aren't as many options as in Södermalm for example, this restaurant is a shining star amongst the rest.
Tabbouli Street specializes in Lebanese street food, making their appreciated "Mixed vegetarian" full of hummus, eggplant, falafel, and more goodies. If you're up for some vegetarian meze dishes, this is the place to go. They've got tasty vegan options as well.
Dirty Vegan
We understand, your stomach literally screams "burger, now please!" and you don't know where to go – but we do.
Dirty Vegan is a vegan burger joint at Södermalm. Inspired by America's comfort food, the menu also includes classics like "buffalo wings" and milkshakes.
The burgers are pretty small but the tastiness they offer makes up for it. Everything comes at a reasonable price and the food makes you beg for more.
What's more, the staff is really helpful and friendly. Grab a friend, a burger, a beer, and treat yourself to a trendy vegan American inspired lunch.
Restaurang Art
You're either feeling trendy or want to feel trendy. Well, in that case, there is no other place to be than at Restaurang Art. As the name suggests this hip place focuses on beautiful plates with dishes you hardly want to eat – out of fear of destroying the picture.
Many of their beautiful dishes are not that big, so if you're starving it might be a good idea to start with a snack.
You'll find this Instagram friendly place in Vasastan but it's pretty hard to spot at first since the entrance seems to be a regular door for a garage.
As soon as you're inside though, you'll be treated to a modern, sleek, and sort of industrial interior. If you didn't feel hipster when you walked in, you'll definitely do it on the way out.
Friends' Table
A newbie on the veggie food scene is Friends' Table, a restaurant on Kungsholmen that opened in 2018. Since then this restaurant has been a success, serving street food with a modern twist and classics like burgers as well as more classy dishes.
Keep in mind that the lunch menu and the dinner menu are quite different from each other.
The atmosphere here is relaxed and hip. You do feel like you can arrive just as you are – no worries about appearances – and the staff is really friendly and service-minded.
The trendy vibe makes their Ginger Snap cocktail a natural choice, as well as the Kentucky Passion cocktail, whilst you wait for your food.
Sthlm Raw
Healthy lunchtime? Sthlm Raw is a bakery that serves up raw food only. Here you'll not be able to see white sugar, even if you really wanted to.
Instead Sthlm Raw uses berries, fruits, and dates to sweeten their food. What's more, they love to answer your questions about their fabulous dishes, drinks, and treats.
Here you can have a light lunch in the form of wraps, soups, Buddha bowls, and a lot more. Snuggle up in a corner of this cozy place and treat yourself to a green smoothie or a big cup of tea – all in a friendly atmosphere that welcomes you as soon as you step inside.
The menu changes with the season so if you're visited Sthlm Raw before, make sure you do it again.
Hermans
Classic vegan buffet inspired by food from all around the world? Ok, here's Hermans. As one of the first vegetarian restaurants in Stockholm, Hermans is old in the game and they know what they're doing.
This well-known restaurant is especially appreciated in summer, when they put up tables in their beautiful garden, overlooking the water.
We're not talking high end, trendy food. But we are talking about a certainly well-made buffet that tastes awesome – what else could you wish for? If you happen to be here in December, they usually have an amazing Christmas buffet too.
Växthuset
If you've got some extra cash to spend on dinner and you'd like to treat yourself to some vegan gourmet, then Växthuset is the place to go.
Located beneath a huge bridge, it's probably the last place you'd thought to find a hip vegetarian restaurant. But then again, that's just Växthuset for you.
The clever name, Växthuset, means the greenhouse, a fitting name for this restaurant. This restaurant is known for its vegetarian and vegan tasting menu, consisting of six well-made courses.
They use locally produced products and even grow some of the herbs used in the foods themselves.
The Green Queen
Part of the popular Mälarpaviljongen, the Green Queen truly is a queen of veggie restaurants. It's only open seasonally over the summer months, usually from April to September, so if you'd like to visit the Queen, definitely make sure you're in Stockholm in time.
What makes the Green Queen special is that the restaurant takes inspiration from L.A., offering dishes such as a vegan Sloppy Joe and BBQ burgers. The Green Queen prides itself on making foods that are free from gluten and street food with a fancy twist.
Seyhmus Vegetariska
An old-timer on the vegetarian food scene in Stockholm is Seyhmus Vegetariska which has existed for more than 20 years.
The interior takes you back just as many decades – and honestly so does their webpage – but the staff is truly friendly and the food is great.
Here you'll be served a tasty vegetarian buffet, all inspired by the Middle Eastern and Mediterranean kitchen.
All drinks they offer are organic and the same goes for their teas and coffee. You do get a lot of food for your money, so if you come here – make sure you're hungry.
» Seyhmus Vegetariska's webpage
Best vegetarian restaurants in Stockholm
– dished out on a map
Here's an overview of where you can find the restaurants we've been talking about. Enjoy! 🙂
(Last updated 2019-11-14)
---
Local expert, travel writer (visited 50+ countries), and I've been living in Stockholm for more than 20 years. My mission with this travel guide is to give you the best possible advice for your visit to Stockholm and to share tips on my own personal favorites in this beautiful city.