Last Updated on June 28, 2019 by
Welcome to Stockholms newest art-museum, Nationalmuseum! Newest because it was recently inaugurated again after a few years closure for renovation.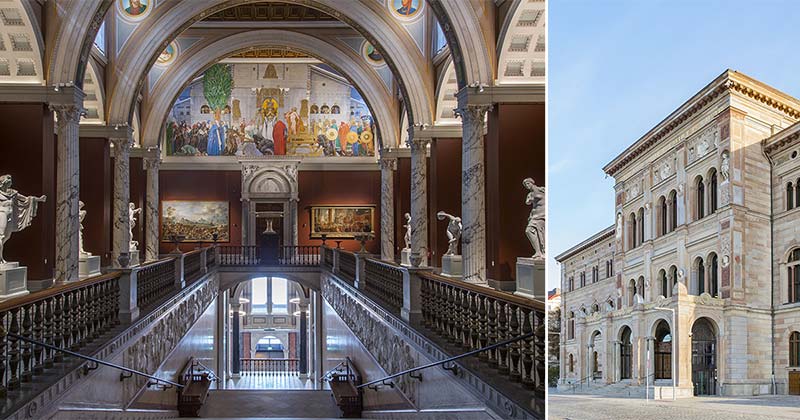 Thousands of Swedish art-fans lined up outside at the inauguration-day. And they were quite right to do so because the museum has had a stunning face-lift – outside and inside.
Nationalmuseum – perfect in size
Entrance is free and the museum is handy in size. Unlike most art-museums in Europe – which go on forever – Nationalmuseum is rather small and can be thoroughly enjoyed in a couple of hours. Less is definitely more!
Nationalmuseum exposes paintings and art from the 16th century to present day. Bright colours on the walls – different for each epoque – enhance the experience and makes it even more enjoyable.
In Nationalmuseum you find famous Swedish paintings by Carl Larsson, Anders Zorn and the "painting prince" Eugen. But also French and Dutch masterpieces.
Nice gift shop at Nationalmuseum
Art from the 20th century is represented, not only with paintings, but with objects that recall the Swedish "folkhemmet"; china, phones, lamps and fabrics from the 1950s and 1960s, the decades when the Swedish welfare was born.
Don´t miss the gift shop! All museum-shops in Stockholm have really nice and special gifts that you don´t find anywhere else. And often to a surprisingly reasonable price!
Local expert, travel writer (visited 50+ countries), and I've been living in Stockholm for more than 20 years. My mission with this travel guide is to give you the best possible advice for your visit to Stockholm and to share tips on my own personal favorites in this beautiful city.