Last Updated on October 4, 2019 by
Gröna Lund is a fun place and a must-visit in Stockholm – at least if you're daring, brave, and enjoy getting your adrenalin pumping. If you're looking for some action during your travels this amusement park is the place to go!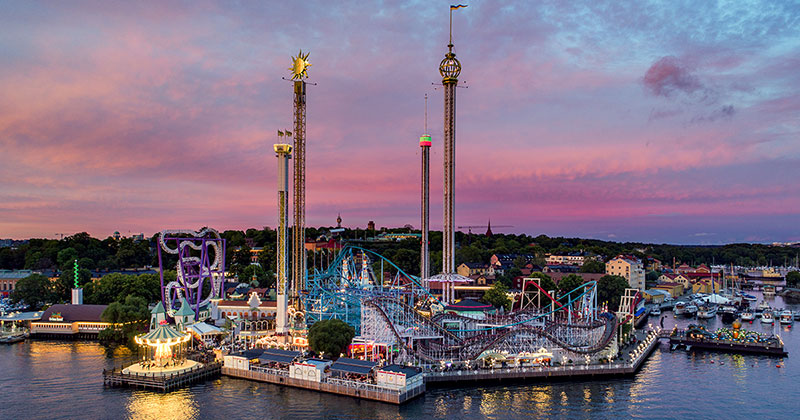 Gröna Lund, or Grönan as the locals call it, is one of two famous amusement parks in Sweden. The other one, Liseberg, is located in Gothenburg.
Gröna Lund was established in the 1880s and has, since then, been one of the obvious choices for the amusement park lovers.
Rides at Gröna Lund
For the lover of thrills, there are several options at Grönan. One of the more popular ones is the vertical spinner coaster named Insane.
What differs Insane from other rides is that Insane's seats rotate on their own axle – freely. This means that when the ride goes one way, you can't be sure that the seats do the same. Hint: You'll be upside down a lot. Also, the G-force will come up to approximately 3.5 G.
If you don't like heights, don't like thrills, and don't enjoy crazy screams, don't worry, there is more than one option for you too.
Why not the classic Wave Swinger, for example? A comfortable merry-go-round in swings on strings, up in the air, partly over the water – beautiful.
For the family, there are rides like the Little Ferris Wheel and a Fun House. There is also a Kiddie Coaster for the little ones.
How to get to Gröna Lund
Gröna Lund is located in Djurgården in Stockholm. Getting here is easy and there are several convenient options to choose from. You can go by bus (number 67) or by tram (number 7 from Kungsträdgården).
Or you can go by boat, by public ferry, by bike, by foot or, of course, by car. Check out the trip planner at sl.se, it's a handy tool to figure out how to travel within Stockholm.
If you have the opportunity, we'd recommend you to go on foot or by bike. It's a beautiful stroll – or ride – and it's easy to navigate.
Good to know
Gröna Lund prides itself on safety and offers a wide range of different safety precautions. For instance, you're not allowed to bring in anything you want into the park.
The official website has an entire list of what's allowed, so make sure you check it out before you arrive. Good to know is that you will have to go through a security check before you enter the park.
And, of course, the attractions and rides themselves are also safe and there are always both security and medical personal close at hand.
Another thing to remember is that most rides have a height requirement of at least 140 cm and at most 195 cm.
All around the amusement park, there are restaurants, bars, and cafés.
Gröna Lund is usually open seasonally (with a few exceptions) between late April and all through September.
The high season is between June and August and the opening hours are usually between ten in the morning and eleven at night.
Included in the Stockholm Pass
The entrance fee to Gröna Lund is one of over 60 attractions that are included in the discount card Stockholm Pass.
(Photo: Marko T Wramén/Gröna Lund)
---
Local expert, travel writer (visited 50+ countries), and I've been living in Stockholm for more than 20 years. My mission with this travel guide is to give you the best possible advice for your visit to Stockholm and to share tips on my own personal favorites in this beautiful city.