How do you go from the airport to Stockholm City? Well, it depends. When you arrive you'll most likely land at Arlanda Airport or Skavsta Airport, as those handle most of the international flights to Stockholm. Here are your different options for transfer to town, from each airport.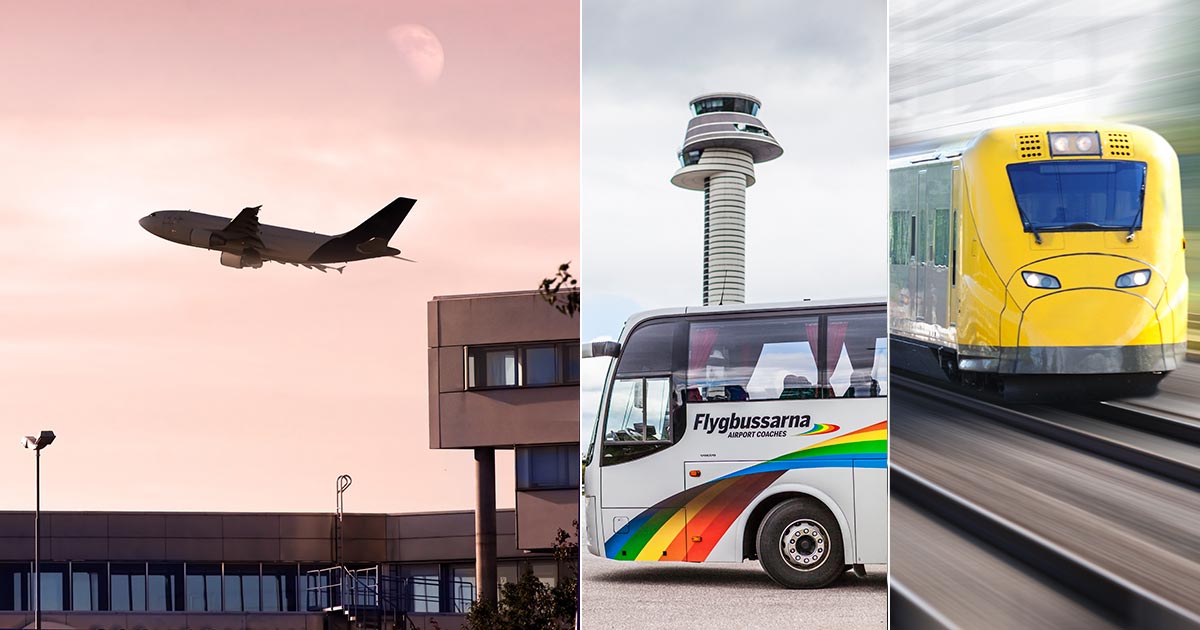 First of all, make sure to check which airport you'll be touching down at. It can be a bit confusing. Not the fact that there are two airports, but more so because they both use "Stockholm Airport" as part of their names.
Stockholm Arlanda Airport is the large international airport that's been around forever. It's situated 44 kilometers from the city center and handles the majority of international flights, both flights originating within Europe and long haul. If you fly in directly from USA, China, India, Thailand or others overseas destinations – then Arlanda it is.
Stockholm Skavsta Airport on the other hand, handles a good deal of European flights. Most low cost carriers, such as Ryanair and Wizz Air, lands at Skavsta. This airport is quite far from Stockholm City, 110 kilometers.
Stockholm Arlanda Airport – transfer to the city
From Arlanda you have a number of transfer choices: bus, train, taxi or privat transfer.
Going by bus is the cheapest option, but it can be bit slow sometimes if the traffic is heavy. Catching the train is the fastest alternativ, but it's expensive.
Taxis are always outside the terminal and even if the vast majority of them are safe, there's always a small chance of being tricked into paying to much. The problems with taxi scams in Stockholm are not as big as they used to be a few years ago, but they're not entirely gone either.
If you prefer to go by car all the way from airport to your hotel, and don't want to take a chance on taxis, we can highly recommend booking a private transfer. You just book it online and get a fixed price for the ride.
Bus from Arlanda
Flygbussarna, the Airport Buses, is the most popular option for getting from Arlanda in to the city. The buses are available 24 hours a day, seven days per week, and they stop outside all terminals.
The journey in to town takes about 45 minutes, but keep in mind that it can take longer during rush hour in the morning and afternoon. In Stockholm the bus stops at Airport Coaches City terminal. From there you'll have to make your own way to the hotel, using buses, subway or taxi.
Tickets are about 16 USD it's easy to book them online. After making the reservation, you'll get at voucher (choose between paper or electronic) to show the driver.
» Book your Arlanda bus tickets online
Airport Train – Arlanda Express
Arlanda Express is one of the best airport trains on the planet. It's almost always on time, it's clean, fresh and modern, and the travel time between Arlanda and the city is just 20 minutes.
There's only one issue. It's expensive. In fact, it's the most expensive airport train you'll ever find. Any where. A one way ticket is 34 USD, a round trip ticket costs 66 USD.
More info at Arlanda Express
» www.arlandaexpress.com
Taxi from Arlanda Airport
Here's the thing. We've been having some issues with taxi scams in Stockholm. The problems probably peaked in 2013-2014 when lot's of tourists where cheated into paying absurd amounts of money for their taxi rides. Things have gotten better, but we still have som rotten taxi companies and dirty drivers.
For us locals, they're usually easy to spot. But if you're a visitor coming direct from a long flight, chances are that you'll choose the wrong car.
To avoid this, look out for the big and trusted companies: Taxi Stockholm, Taxi 020, Sverige Taxi, and Taxi-Kurir. And keep in mind that they should be spelled exactly like that. There has, for instance, been a company called Taxi i Stockholm – which is something entirely different than Taxi Stockholm – even if it's just one letter that differs.
Transfer in a private car
If you prefer to travel in a private car from the airport terminal directly to tour hotel, but don't feel like taking a taxi, then go for this option. It's a bit pricey, but if you're two or three people sharing a car, it's actually quite affordable. And it's by far the most convenient way to in to town.
Book and pay online, you get a fixed price, and you'll have a driver waiting for you when you exit the arrivals area at Arlanda.
» Book a private transfer from Arlanda
Stockholm Skavsta Airport – transfer to the city
From Skavsta Airport you don't have too many transfer options. The long distance from Stockholm City (110 km/68 miles) makes it very expensive to go by taxi – and there are no trains from the airport.
Bus from Skavsta
Almost all international visitors landing at Skavsta takes the airport bus in to Stockholm. The journey is a about 90 minutes, depending a bit on the traffic.
In Stockholm the bus stops only at Airport Coaches City terminal. From there you'll have to make your own way to your accommodation using bus, subway or taxi.