Last Updated on September 30, 2019 by
Swedes are sometimes known for being cold and difficult to bond with. While this might be true in some situations, it's far from accurate for Swedes out clubbing. When clubbing, we're happy and love to meet new people.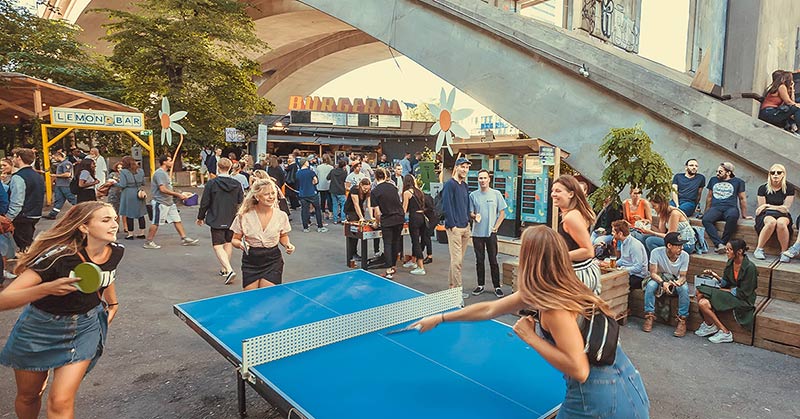 Check out our guide to the clubs and bars where you're most likely to find us on the dance floor or chilling around the bar.
Stockholm's best night clubs
Under Bron & Trädgården
"Trädgården" means "The garden" and is a unique open-air club (image above) during summer, with restaurants, activities, several dance floors, live bands and DJ:s playing rock, hip hop and pop.
"Under bron" is the winter version of Trädgården and means "under the bridge", which is exactly where this club is located – under Skanstull bridge.
This club gives you speakeasy and underground vibes with DJ:s playing techno and house all night long. Arrive early to avoid long queues.
Address: Hammarby Slussväg 2
Website: www.tradgarden.com
Slakthuset
A slaughterhouse turned nightclub might sound like something from a horror movie, but don't worry – they have redecorated since.
The club still has an industrial touch, combined with several dance floors and electro music. The large rooftop terrace is open during summertime and is a popular spot among hipsters.
Address: Slakthusgatan 6
Website: www.facebook.com/slakthuset
Berns
Located in the heart of Stockholm, this art nouveau establishment has been a popular hangout for locals since 1860. The stage often hosts world famous artists and party people dance under huge chandeliers.
Address: Berzeli Park
Website: www.berns.se/en/nightlife
Café Opera
This fancy nightclub opened its doors during the 80's and has been popular watering hole among locals, tourists, and famous artists ever since.
The club has been refurbished several times and its grand interior makes it one of Stockholm's most lavish clubs.
Address: Karl XII:s torg
Website: www.cafeopera.se/en/
Out Of Office
A new concept has developed in recent years – a networking and nightclub experience during early hours. Once every month, Stockholm's workforce leave the office early to beat the long queue to Out Of Office.
The after-work party takes place in different clubs every month and goes on between 5 pm and 10 pm, always drawing huge crowds. The icing on the cake? No cover charge!
Address: Different location every time
Website: oooaw.com
Stockholm's best bars
Not in the mood to go all in? Chill out in one of Stockholm's many bars instead.
Tiki Room
A tropical place in Stockholm, Sweden? Yes, totally! Just head to Tiki Room, a tikibar with a touch of Hawaii and Polynesia.
The bar is decorated with bamboo and coconuts and the bartenders dressed in Hawaii-shirts serve delicious drinks inspired by the pacific islands.
Address: Birkagatan 10
Website: www.tikiroomstockholm.se
Scandic Continental's Capital Bar
Located across the street from Stockholm Central station, Capital bar at hotel Scandic Continental is easily accessible and one of the latest (and most popular) additions to Stockholm's rooftop scene.
The view over Stockholm's waterways and town hall is magical during sunset and the cocktails are both swanky and delicious.
Address: Vasagatan 22
Website: www.scandichotels.com/scandic-continental/restaurant-bar/bar
Tap Room
Cocktails on tap? Sure, why not? Tap Room is a concept developed by Swedish top chef Marcus Samuelsson, who has combined his love for New York with creative food and drinks.
Located in the modern hotel Clarion Amaranten, the atmosphere oozes 1960's America but the cocktails are state of the art. Just sit back, tap and relax.
Address: Kungsholmsgatan 31
Website: www.nordicchoicehotels.com/clarion-hotel-amaranten/bars
Tak
"Tak" means roof, and that's exactly where this Nordic restaurant slash bar with Japanese influences is located. The rooftop terrace is a popular spot during summertime, with panoramic views and delicious cocktails.
But the party doesn't stop because the sun goes into hibernate mode. The rooftop is also open during our cold winters, with skilled bartenders serving warm drinks to both locals and shivering tourists who forgot to bring hats and gloves on their Nordic adventure.
Address: Brunkenbergstorg 4
Website: tak.se/en
• Check out our page on Stockholm Rooftop Bars
Local expert, travel writer (visited 50+ countries), and I've been living in Stockholm for more than 20 years. My mission with this travel guide is to give you the best possible advice for your visit to Stockholm and to share tips on my own personal favorites in this beautiful city.