Last Updated on July 1, 2023 by Göran Ingman
Stockholm City Hall is a tall and beautiful red brick-building on the shore of Lake Mälaren. It looks a bit like a medieval castle and has, ever since it was built in 1923, been an important part of the Stockholm skyline.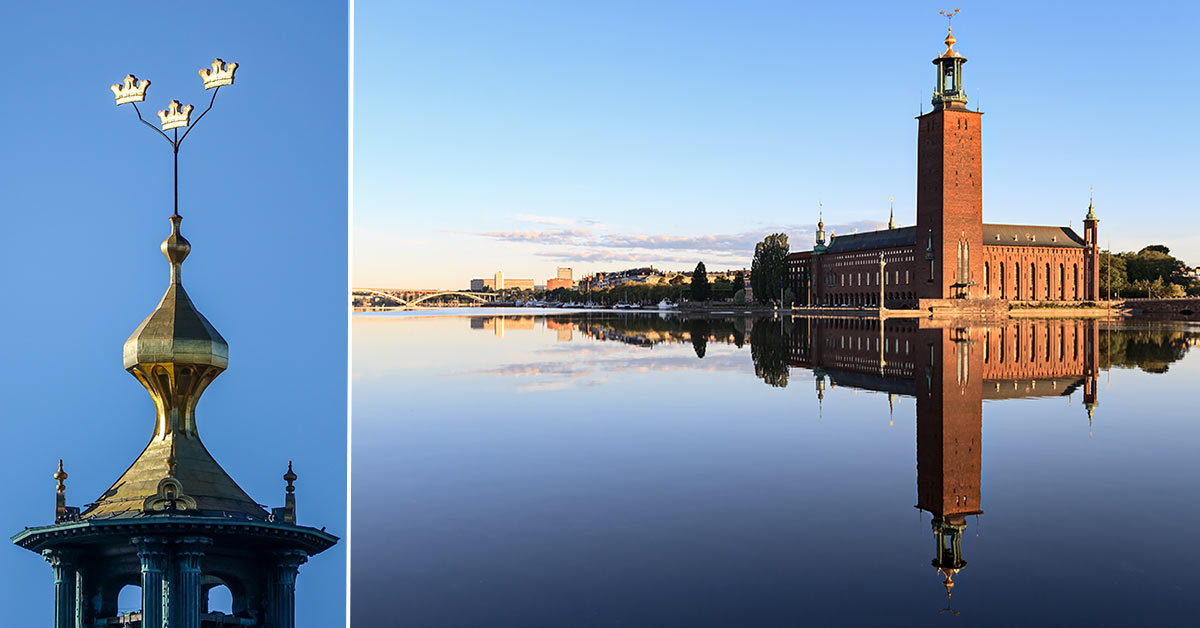 The City Hall is mostly famous for the Nobel Prize, founded by the Swedish inventor Alfred Nobel.
Every year since 1901, on December 10th, 1300 invited guests share a magnificient dinner with the laureats and the royal family in the Blue Hall.
The Blue Hall is actually … red
But be ware – the hall is not blue, it is red! This is because the architect changed his mind about painting the hall blue. But the name stuck.
The blue hall is dominated by a huge marble staircase, built with regard to the women´s fancy dresses and high heels. The architect let his wife go up and down on high heels until he found the perfect measurements for a safe walk down. You can try it yourself!
If the Blue hall is impressive, the Golden hall is even more so with it's leaf-gold decorated walls and 18 million pieces of mosaics.
Stockholm City Hall is not a museum
A guided tour of the City Hall is full of surprises and the best part is that it is not a museum – it is actually the office of 101 politicians of the city of Stockholm.
And if you want to try the same menu as the laureats of the year, you can just pop into "Stadshuskällaren", the restaurant in the City Hall.
Every inch of this building is a reflection of Swedish culture and ancient history and is really worth a visit.
Did you know that each of the three guilded crowns on top of the tower is the same size as a small car?
Guided tours of Stockholm City Hall
The city hall is a part of different tours offered by Get Your Guide, for instance. It's also one of the stops if you choose to explore Stockholm by Hop on-Hop off bus. See all tours related to City Hall here.
For information on the guided waling tours offered by the staff at City Hall, please have a look at this page.
---
Facts about the City Hall of Stockholm
The tower is 106 meters high.
About 8 million (!) bricks were used during the construction.
It took 12 years to finish the project.
The building is one Swedens best examples of architectural national romanticism.
The Pipe Organ in the Blue Hall is the largest in Scandinavia, with 10 270 pipes.
Local expert, travel writer (visited 50+ countries), and I've been living in Stockholm for more than 20 years. My mission with this travel guide is to give you the best possible advice for your visit to Stockholm and to share tips on my own personal favorites in this beautiful city.