Last Updated on October 4, 2018 by
Coffee shops can be found almost on every street in Stockholm. And since we here at Stockholm Travel Guide more or less live our daily lives from a coffee shop, cinnamon bun in hand, this list was quite easy to work out.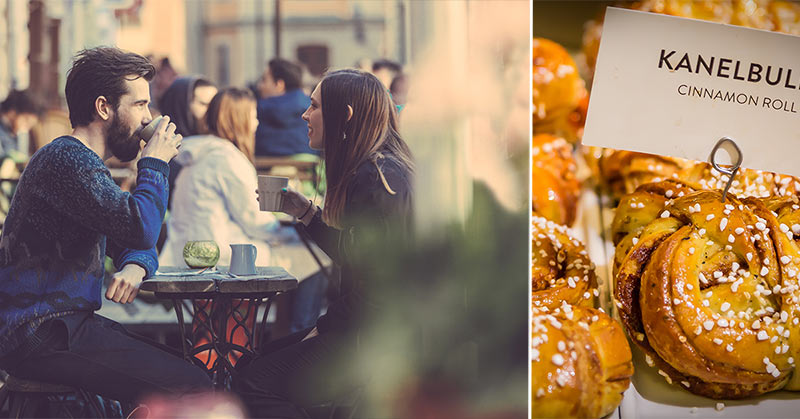 The main religion in Stockholm isn't Christianity, Islam or Ateism – fika is. Fika is pronounced "feekah" and is considered a social institution in Sweden.
It's a moment of quality time with friends or colleagues while enjoying a beverage and a pastry together.
Best coffee shops in Stockholm
Sweden is among the top coffee consuming nations in the world and there are coffee shops on every corner in Stockholm to satisfy our cravings.
But which ones are the best coffee shops in Stockholm? We've got the answer for you.
Konditori Genuin
Organic isn't a trend anymore – it's a lifestyle. Konditori Genuin knows this, everything is 100% organic and home-made from scratch. They make their own vanilla custard, mayonnaise, marzipan, hummus… well you get the point. The café is quite small and can be busy at times but you can always get your treats to go and enjoy them in a nice park.
Address: Pipersgatan 20
Website: konditorigenuin.se
Chokladkoppen
Located in the heart of Gamla Stan (Old Town) in a house from 1520, Chokladkoppen is a perfect place to people watch. You enjoy your coffee on a cute cobblestone square, just a stone throw from the Royal Palace. Chokladkoppen is a gay-friendly coffee shop where you can find flyers and information about upcoming gay events in Stockholm.
Address: Stortorget 18
Website: www.chokladkoppen.se
Kaffeverket
This trendy and spacious place was named one of the best coffee shops in Stockholm by White Guide. A favourite among locals, Kaffeverket serves delicious sourdough sandwiches, healthy food and dreamy matcha lattes.
Address: Sankt Eriksgatan 88
Website: www.kaffeverket.nu
Cafévagnen
Cafévagnen means café carriage, which is exactly what it is – a tram with a carriage designed as a coffee shop. You get to enjoy a fika while getting to where you need to be – very efficient, just like us locals.
Cafévagnen departs once every 30 minutes on Saturdays and Sundays, from the end of March to the end of December. The route to Djurgården is beautiful; make sure to enjoy your surroundings and not just your coffee.
Address: Norrmalmstorg–Djurgården, tram 618 (it has a giant coffee cup on its roof)
Website: www.djurgardslinjen.se/cafevagnen/
STHLM RAW
As the name suggests, STHLM RAW serves organic and raw treats. This vegan café and restaurant offers healthy smoothies, cakes, wraps and bowls – all natural without gluten, lactose or sugar. STHLM Raw is the place to fika without having to worry about calories.
Address: Långholmsgatan 11
Website: www.facebook.com/sthlmraw
Gretas (at Haymarket by Scandic)
An Instagrammers dream and the perfect spot for a coffee break when you're in downtown Stockholm. Greta's café is a modern adaption of 1920's glamour with pink and marble details. They also serve avocado toast for breakfast – looking at you Millennials …
Address: Hötorget 13–15
Website: www.scandichotels.se/haymarket-by-scandic/gretas
Pom & Flora
In town for business or pleasure? Doesn't matter at Pom & Flora. This café has fast Wi-Fi and lots of power outlets, which makes it very work friendly. They also serve breakfast all day! Pom & Flora don't discriminate late sleepers; they know breakfast is the best meal of the day and should be accessible to everyone.
Address: Bondegatan 64
Website: www.pomochflora.se
Wienercaféet
Take a break from your luxury shopping and enjoy a cup of coffee, afternoon tea, patisserie or brunch at Wienercaféet. The huge chandeliers provide a luxurious touch together with the fancy menu, price level and the address.
Address: Biblioteksgatan 6–8
Website: www.wienercafeet.com
Vete-katten
Probably the most well-known coffee shop in Stockholm, most locals have had a fika at Vete-Katten at least once. This is the place to feast on classic Swedish pastries like kanelbullar, semlor and princesstårta.
Since it's such a popular spot among both locals and tourists, weekends can be crowded and loud. Opt for a visit during a weekday if you have the chance and you'll get an even better experience.
Address: Kungsgatan 55 (and several other locations, see their website)
Website: vetekatten.se
Learn the Swedish fika lingo
Café / Coffee Shop – Café
Kaffe med mjölk – Coffee with milk
Te med mjölk – Tea with milk
Kanelbulle – Cinnamon bun
Semla – Bun with cream and almond paste, available from around New Years until Easter
Lussekatt – Saffron buns in the shape of an 8, available around Christmas
Princesstårta – Sponge cake with layers of jam and cream, topped with marzipan
Chokladboll – Golf sized ball with a taste of cocoa and sprinkled with coconut flakes
Local expert, travel writer (visited 50+ countries), and I've been living in Stockholm for more than 20 years. My mission with this travel guide is to give you the best possible advice for your visit to Stockholm and to share tips on my own personal favorites in this beautiful city.