Last Updated on December 16, 2019 by
BIKING IN STOCKHOLM. This city is probably one of the most bike friendly capitals you'll find anywhere in the world. It's relatively small, it's quite flat, and there are bike lanes almost everywhere you go.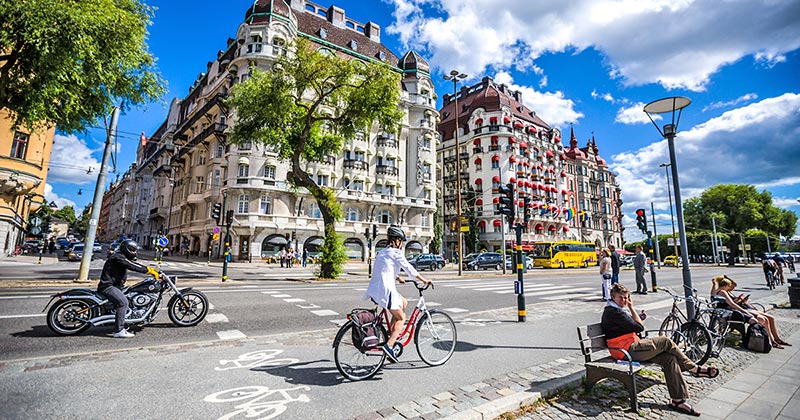 Discovering Stockholm on two wheels is a really great idea. You can glide through the city at the pace you choose, and easily stop for taking in the views and snap some photos.
You'll also burn calories while sightseeing, which comes in handy before trying out some of the excellent food and restaurants in Stockholm.
You can choose between renting a bicycle or going along for a guided bike tour of the city. Or do both! Start with a guided tour, then your good to go exploring on your own.
Rent a bike in Stockholm
There are a few options for renting a bicycle. Nowadays, the most popular is City Bikes. It's a cycle renting scheme of the same kind you'll find in many major cities worldwide.
You pick up the bike from any of the 140, or so, available bike stands around town, and return it to another. For tourists there's a 3-day card that can be bought from tourist centers and from many hotels. A full list of retailers can be found here.
City Bikes are available from April to October. Keep in mind that each ride can be a maximum of three hours before returning the bike.
Bicycle tours of Stockholm
Not comfortable going on your own? Or do you prefer having a knowledgeable guide describing what you see along the way? We hear you. Signing up for a guided bike tour is a smart move.
There are several options that can be booked online, you can find most of them here.
One popular choice is this three hour tour taking you to landmarks such as City Hall, Riddarholmskyrkan, The Royal Palace, The Old Town, The Vasa Museum and the wonderful city park Djurgården.
Bike, helmet, english speaking guide, and rain poncho (fingers crossed that you won't need it) are included in the price. Just show up and pedal away.
Another good option is this popular tour that also includes Södermalm, often described as the "hip and trendy" part of Stockholm.
Advice on biking in the city
Even though this is a cycle friendly town, there are things to keep in mind. Traffic can be quite heavy in the most central parts of the city, so always be careful and keep an eye out for cars, trucks and buses. They're not allowed on bike lanes, but that's not always respected.
If you're on a bike lane that goes straight forward in an intersection, and you have traffic on your left side, keep in mind that the cars might be making a right turn – in your direction. Watch out, try to make eye contact with the driver, and don't roll away until your sure it's safe.
Pedestrians are not allowed on the bike lanes either, but they tend to use them anyway.
This is especially an issue during peak tourist season when visitors from abroad, with their eyes fixated on a paper map or on Google Maps on their phones, stray out on to the bike path. Not you of course, but others do 😉 Don't pedal too fast, you must be able to break in time if something happens.
Wear a helmet! Yes, you may look a bit goofy. Yes, your hair will be a mess. But it can save your life.
Bike map of Stockholm
Maps for biking can sometimes be found at hotels and tourist information center. But you can also download them as pdf-files from Stockholm.se.
Scroll down a bit on this page and you'll find links to:
Karta över cykelbanor i norra Stockholm (Map of bicycle lanes in Northern Stockholm)
Karta över cykelbanor i södra Stockholm (Map of bicycle lanes in Southern Stockholm)
Electrical bikes?
Yes! In Sweden we're going trough an "electrical bike boom" at the moment.
A lot of people are riding bicycles with a small battery pack attached to them, that helps getting them uphill (and to the office) without sweating too much.
If you'd like to try for yourself, then just rent one. Here's a suggestion: Stockholm E-Bike Tour with GPS.
Local expert, travel writer (visited 50+ countries), and I've been living in Stockholm for more than 20 years. My mission with this travel guide is to give you the best possible advice for your visit to Stockholm and to share tips on my own personal favorites in this beautiful city.