Last Updated on September 7, 2018 by
FOOD TOURS STOCKHOLM. One of the best, maybe THE very best way, to get to know Stockholm is with a great guide by your side and a cinnamon bun in your hand.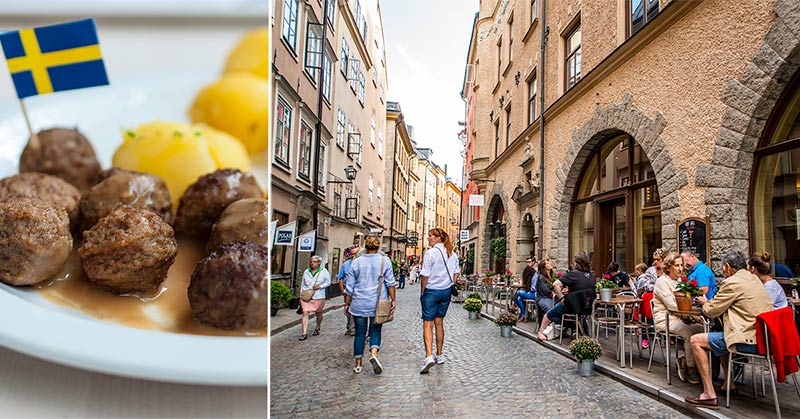 Sweden has a long and interesting food tradition that's given the world delicacies such as meat balls, gravlax, pytt i panna and – sorry about that – sour herring …
Combine this tradition with modern, talented, chefs and a huge influx of cultures and tastes from most parts of the planet, you get a city that makes foodies very, very happy.
In Stockholm you'll find international, Michelin starred, fine dining restaurants, amazing fast food, super yummy chocolate and toffee, great sandwiches, fantastic food markets and always something good to go with the food.
Beer? We're pretty much world leading experts. Schnapps? The best. Wine? Well, we import all of it, but we know how to pair it and to drink it. Coffee – we consume more coffee than any other country on this planet. Except for Finland. But who goes there, right?
Food Tours in Stockholm
You could of course try to taste all of this by yourself. But we really recommend that you go on one of the very popular food tours that Stockholm has to offer.
Not only for the food, even if we know you'll love it, but also for the fact that the tour guides on these tours are among the best in town. You'll learn lots about Stockholm. This is a unique way to please both belly and brain.
Stockholm Food Tour
This is the original food tour in town. It's popular and always get great reviews. The tour is small scale, never more than 12 participants, and it takes you to some of the most interesting places in town – as well as to some of the tastiest treats.
You'll start from Östermalmshallen, Stockholms oldest and poshest food market. From there you'll continue to a hip food court, then try some local chocolates and Swedish delicacies. Before the tour is over you'll have tried cheese, cured meats, local beer and – never to be missed – cinnamon buns and coffee as well.
Duration is about 4 hours and there are usually two tours per day, even if this can vary depending on the season.
» Read more & book the tour here
Welcome to Sweden Culinary Tour
Meatballs, fish soup, royal chocolate, liqorice – and much, much more. This food tour is an excellent introduction to the flavors of Sweden and it perfectly describes why Stockholm has become a foodie destination.
It takes four hours and makes 7 stops. Usually two tours per day, one at 10 a.m. and one at 2 p.m.
» Read more & book the tour here
Stockholm Vegetarian Walking Tour
If you don't eat meat, Stockholm's got you covered. The vegetarian trend has been strong for many years and has recently moved into even the fine dining restaurants, with some of the creating entire menus where meat is something you add as an extra.
Many of the good vegetarian restaurants and cafés are located in Södermalm, a part of town that used to be quite bohemian. Today it's more gentrified, but still interesting and, in many places, very pretty.
This vegetarian food tour takes you around Södermalm to some of the vegetarian hotspots, restaurants as well as cafés. It lasts for approximately 2.5 hours.
» Read more & book the tour here
---
Please note that for all tours you need good shoes and you need to be able to walk 3-4 kilometers. All other information is available on the booking page.
---
Local expert, travel writer (visited 50+ countries), and I've been living in Stockholm for more than 20 years. My mission with this travel guide is to give you the best possible advice for your visit to Stockholm and to share tips on my own personal favorites in this beautiful city.