The Stockholm Public Transport System is efficient and cover most parts of town. Even if this is a perfect city to explore by foot, almost everything is within walking distance in the inner city, it can be nice to gain some extra time by using the public transports every once in a while.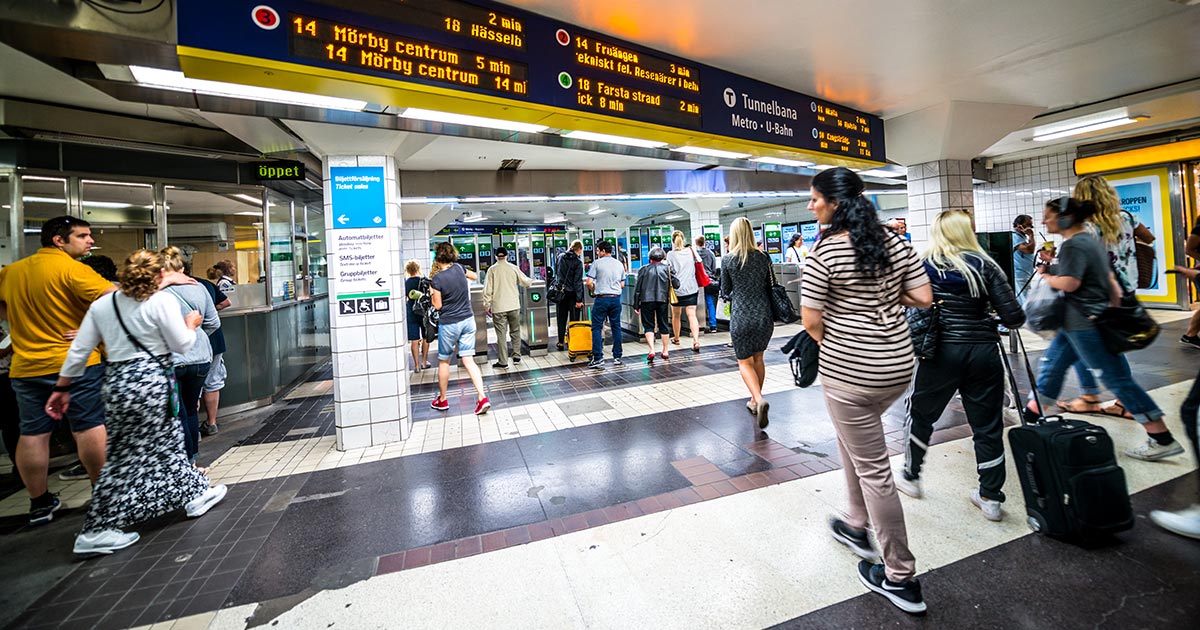 The Swedish capital has a very well-organized transport system and you can choose between taking the subway, the light railway, commuter trains, buses or see the city by boat. The bus-and rail transport is operated by SL. Check out this complete Stockholm public transport guide.
Stockholm subway – 3 main lines
The easiest way to get around is to use the subway. The Stockholm city subway provides 3 main lines – the green, the red and the blue line serving approximately 100 stations with T-centralen (Central Station) being the transport hub. Stockholm subway runs daily between 5 a.m.-1 a.m.
A really nice thing to note about the subway in Stockholm is all the art that embellishes the stations. About 90 of the 100 stations are filled with murals, sculptures, ceramic and mosaic. Stockholms subway is sometimes called "the worlds largest art gallery".
There are also four light rail lines called Tvärbanan, Nockebybanan, Djurgårdslinjen (Spårväg City) and Lidingöbanan. Tram no.7 reaches Djurgården and connects you to many of the important museums and attractions in only 10 minutes. A perfect way to discover the city as well.
Buses in Stockholm
If you prefer taking a bus instead, there are many lines operating in and around Stockholm. Stockholm city bus lines use Slussen as a transport hub which is close to Gamla Stan (Old Town). Moreover, the disabled are sure to enjoy a nice ride as well whether they go by subway, by bus, or by tram. If you have a stroller you also get to ride for free.
There are four main bus lines in Stockholm:
Inner-city blue buses
Inner-city red buses (operate less frequently)
Suburban blue buses
Service buses for elderly people
Commuter trains
You can either take the commuter trains if you want to have a look around and go further outside the city area, or you can catch a national train to visit another city. The commuter services and the national rail both connect at T-centralen (Central Station).
Boat lines in and outside town
Several boat lines are operating from Nybrokajen and allow you to explore the archipelago. If you fancy a boat trip "within" the city, you can take the Djurgården ferry from Slussen. Main boat lines are:
Waxholmsbolaget
Cinderellabåtarna
Stockholm Public Transport – tickets and travel cards
All tickets can be purchased online via the SL app, at kiosks such as Pressbyrån, the SL centers and at the subway ticket booths and they can be used on every form of transport, except the archipelago tours.
A single ticket is valid for 75 minutes but there is also a possibility to get a 24 hour or a 72 hour ticket. If you do not manage to show a valid ticket or travel card you may have to pay a penalty fee of 1200 SEK (148 USD). Please make sure to have a credit card ready if you want to pay on buses. Cash is no longer accepted there.
However, the best and the cheapest way to get around is to use a prepaid travel card. The SL card is valid everywhere in Stockholm, even on the archipelago boat tours run by Waxholmsbolaget.
The card can be reloaded at kiosks and the minimum amount is 100 SEK. Normal price for a single ticket is 43 SEK and with the prepaid SL Access card it costs 30 SEK. There is a fee of 20 SEK for the card as well.
See more information about tickets and fares here.