The Royal Palace of Stockholm is one the greatest attractions in Sweden. Kungliga slottet, as it's called in Swedish, It's also one of the largest palaces in Europe. Here's our advice for visiting!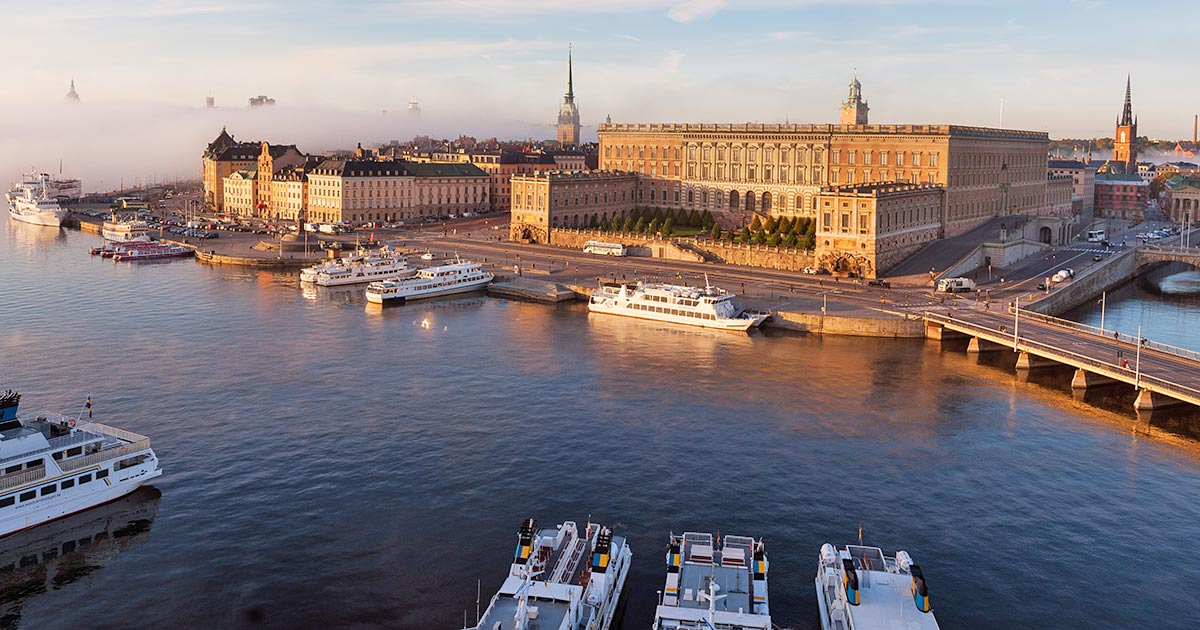 First of all, the question everyone asks: Will we see any kings, queens, princes or princesses if we visit the palace?
Well, you may. Not super likely, but if you are lucky enough to be there on the right day, you just may.
None of the members of the Royal family actually live at the palace but they all work from there. King Carl XVI Gustaf and Queen Silvia and the rest of the royal family, as well as the offices of the King, are located in the palace. It's also used for representative purposes for the Royal family.
The Royal Palace of Stockholm is located in Gamla stan. The building has been around since the early 18th century, but there has been a royal castle in this location since the 13th century when the old castle, Tre kronor, was built.
Tre kronor was completely destroyed in a fire in 1697 and later replaced by the current castle.
Visiting The Royal Palace of Stockholm
The Royal Palace of Stockholm is located in the middle of the city, you can hardly miss it. But if you come by subway, the nearest station is Gamla Stan, served by the red and green line. Another option is the Kungsträdgården station, on the blue line.
Tickets and opening hours
The Royal Palace is open from 10.00-16.00 on Tuesday to Sunday in October to April and it's open daily from 10.00-17.00 frpm May to September. Please keep in mind that the Royal Apartments can be closed if there's an official reception going on.
You can buy the tickets online or at any of the entrances. The regular price for adults is 160 SEK. For kids and teenagers, from 7-17 years, the ticket price is 80 SEK.
The tickets are good for visits to the Royal Apartments, the Treasury and the Tre Kronor Museum. During the summer period, Gustav III Museum of Antiquities is also included.
There are also several combination tickets available for the palace and other nearby buildings of interest.
Guided tours of the castle
Joining a guided tour is a great way to experience the building and its rich history. The guided tours are just 20 SEK extra, on top of the admission price, but they can't be booked in advance.
In the summer there are four daily tours, and three in the winter. Each tour takes about 45 minutes and they are held in English, Russian and Chinese.
Included in Stockholm Pass
The discount travel card Stockholm Pass is a must have if you plan on seeing the main attractions of Stockholm. Admission to The Royal Palace is included with the card, as well as almost all other sightseeing favorites in the city.
» Read more and buy the card here
(Photo by Jeppe Wikstrom/mediabank.visitstockholm.com)