Last Updated on September 24, 2019 by
Stockholm Day Trips can be fun, historical, educational, interesting and just the perfect thing to do when you feel like you've seen what Stockholm has to offer. These eight different day trips might be good options for you, when you feel like leaving town.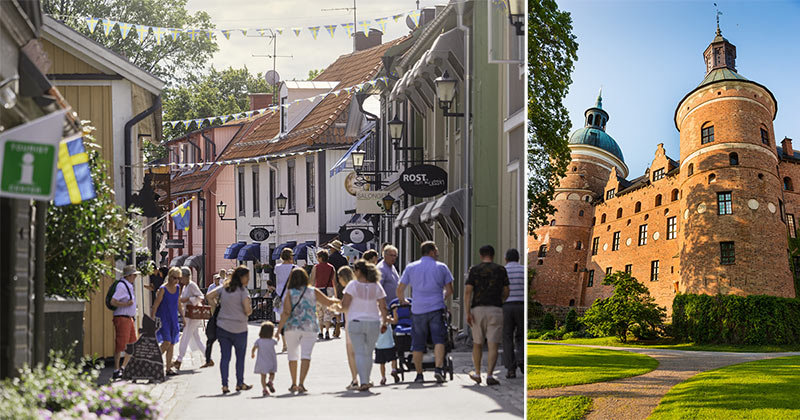 From Stockholm you have easy access to a number of fun and historical sights. We especially recommend the guided day tours for a fuller experience.
Because of its simplicity, guided tours are perfect for the traveler. The guides are knowledgeable, friendly, and will answer all of your questions. Of course, the guided tours include a return trip to Stockholm. Check out the different options for Stockholm Day Trips we've listed for you below.
Sigtuna
– one of the most popular Stockholm Day Trips
Known as the oldest town in Sweden, established as early as the 980s, Sigtuna is a unique example of Swedish history and has a lot to offer. Going to Sigtuna is also one of the most popular Stockholm Day Trips there are.
For instance, you'll visit Viby by which is a crofter village, preserved in its original state since the 1850s. In Sigtuna, you'll also explore older parts of the town, such as Wenngarn Castle from the 18th century and the historical Sigtuna village itself.
Mariefred
Dating back to the 1370s, Mariefred's history is remarkably old. The name Mariefred means Marie's Peace and originates from the nearby monastery with the name of Pax Mariae, built in the year of 1493.
Since then, many powerful people have set their mark on the land. Amongst the most famous are Bo Jonsson Grip and Gustav Vasa, the latter being responsible for building the impressive Gripsholm Castle.
Gripsholm Castle is one of the highlights of Swedish history and we recommend that you take your time, possibly a full day, when you visit this unique place. You can get here by train, boat or by car. For more information, please visit The Royal Palaces website.
The Fjäderholm Islands (Fjäderholmarna)
The Fjäderholm Islands are a group of islands in Stockholm's archipelago which, since the year of 1995, are a part of the Royal National City Park.
Here, you'll find everything from different restaurants and smokehouses to confectioneries and handcraft, such as pottery, glassworks, and a forge.
You'll get here by boat, a trip of around thirty minutes one-way, and have the option to stay all day, far away from the noisy city hustle. The short distance, the nice boat ride and the accessibility, makes it one of the best Stockholm Day Trips you can take.
The Fjäderholm Islands are usually open seasonally between May and September. However, please note that on some of the islands disembarkation is prohibited while the birds are nesting.
» Fjäderholmarna Return Cruise from Stockholm
Uppsala
A simple 40-minute train ride from Stockholm you'll be welcomed by Uppsala. The early city network, developed in 1643, still characterizes the town's core and gives it its particular mark.
Walk the same routes as Carl von Linné alongside the river Fyrisån and explore the impressive architecture of Uppsala Cathedral, Uppsala Castle, and the beautiful buildings belonging to Uppsala University, founded 1477.
Uppsala is easy to get to from Stockholm: Simply make your way to Stockholm Central Station and hop on a train to Uppsala (usually from track 3). Note that you have to buy your train ticket before you enter the train.
Vaxholm
The city of Vaxholm is an old fishing town, going back as far as the 14th century, which today offers a wide range of unique experiences. Visit the boutiques, take a stroll in the beautiful environment, and don't forget to get a guided tour of the mighty stronghold.
» Small-Group Archipelago Tour to Vaxholm
Drottningholm Palace
Drottningholm Palace is a renowned castle that has earned its place on UNESCO's World Heritage list because of its well-preserved state.
It's an extravagant example of the 1600's architecture and features guided tours with highlights like the Chinese Pavilion. This is also the permanent residence of Their Majesties the King and Queen of Sweden.
If it so happens that you're in Stockholm during the beginning of December, don't forget to check out the yearly Christmas market at Drottningholm where you can get everything from mulled wine (glögg) to handmade candles, woodwork, and much more.
Vikings
Sure, old towns are nice and all but what about the vikings? The vikings are a Scandinavian phenomenon that fascinates many and inspires even more. From Stockholm there are several viking themed tours that we can recommend to those that are interested in exploring rune stones, ancient remains, and walk along the paths of history.
» Full-Day Small-Group Viking Culture Tour
» Half-Day Viking Culture Tour
Birka
And, speaking of vikings, in the middle of Mälaren is Björkö, the famous island on which Birka was founded in the 750s. This is the first known city in Sweden and even though it was long lost for ages, it's now available for the public to visit and to explore. Birka is on UNESCO's World Heritage list.
Enjoy food, traditional craftsmanship, and guides explaining all about the ancient remains – all immersed in the era of the vikings. You'll get here by boat, which can be booked through several agencies.
Everything at once?
If you can't get enough of sightseeing, the Stockholm Pass will give you access to more than 60 popular destinations in and around Stockholm. Perfect for in-town sightseeing as well as for day trips from Stockholm.
You'll also get access to hop-on-hop-off buses and tours by boat through channels in the city center. On top of that, you'll get a guidebook to get the most out of the experience.
Local expert, travel writer (visited 50+ countries), and I've been living in Stockholm for more than 20 years. My mission with this travel guide is to give you the best possible advice for your visit to Stockholm and to share tips on my own personal favorites in this beautiful city.