Last Updated on July 15, 2023 by Göran Ingman
Skansen is a large open-air museum situated on the island of Djurgården – and it's one of the most beloved places in Stockholm.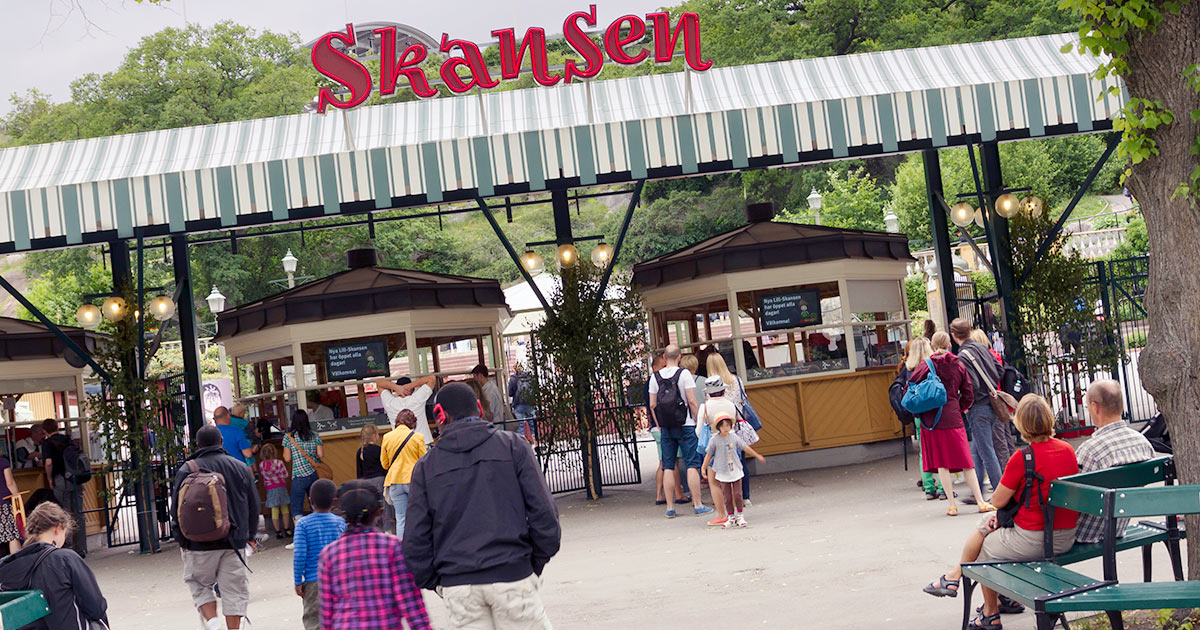 Skansen has been around for almost 120 years. It was opened in 1891 with the main purpose of preserving the rural culture of Scandinavia in a time when more and more people left the countryside for the cities and industrialization took over from agriculture.
The founder of Skansen, Artur Hazelius, bought 150 houses from all around Sweden, and had them transported to Skansen. Today all of the houses are open to Skansens visitors and they provide a glimpse of how life was in Sweden in the 17th, 18th and 19th century.
Today people are probably more attracted to Skansen due to it's zoo, containing a wide variety of Scandinavian animals. You can expect to see brown bear, wolfs, wolverine, red fox, otter, seal, lynx and reindeer. There are also farm animals and some non-Scandinavian animals.
Skansen – when to visit?
Summer is great, you can easily spend a whole day here when the weather is nice. But winter time can be quite cozy and the annual Christmas market is very popular among Stockholm's inhabitants as well as our visitors.
Weekends in the summer tend to be a bit crowded. Even though Skansen covers a big area, there can be some queues to the food and ice cream outlets. If you have the chance, go here on a weekday in Summer.
Skansen – tickets and opening hours
The ticket price varies over the year. It's more expensive during the summer months than in the winter. In summer adult admission is 245 SEK and in the winter it's 185 SEK. Children admission (4-15 years) is 60 SEK all year around.
The opening hours varies as well. In the summer it's usually open from 10.00 am to 18.00 pm, but during the short days of the winter it can close as early as 3.00 pm.
Tickets can be bought at the different entrances. But it's also possible to book in advance at skansen.se.
Included in Go City Stockholm Pass
The entrance fee to Skansen is included in the Go City Stockholm Pass, which can give you a substantial discount on attractions when visiting Stockholm.
» Read more and buy the card here
Local expert, travel writer (visited 50+ countries), and I've been living in Stockholm for more than 20 years. My mission with this travel guide is to give you the best possible advice for your visit to Stockholm and to share tips on my own personal favorites in this beautiful city.