Last Updated on July 3, 2023 by Göran Ingman
Do you have any recommendations on hotels in Stockholm? That's probably the most common question I get here at Stockholm Travel Guide. Here's what I have to say.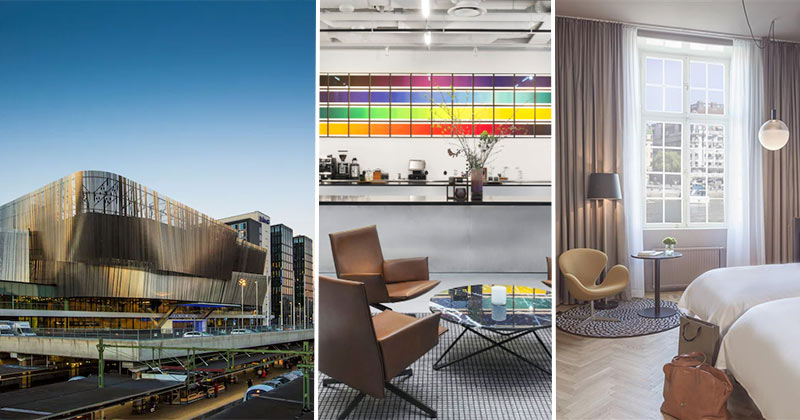 If I would give just one piece of advice on how to think when booking a hotel in Stockholm, it's this: Skip the international brands and go Scandinavian.
We do have Sheraton, Hilton, Marriott and all the other hotels you can find anywhere in the world. They're not bad, of course, but you really should give our Scandinavian hospitality a try.
To get a true Scandinavian and Nordic feeling during your vacation, make a reservation at a hotel from either Strawberry Hotels (formerly Nordic Choice), Scandic, Elite Hotels – or stay at a smaller, independent, hotel in Stockholm.
In this hotel guide I'll focus on Stockholm hotels with local design and ambience.
My 3 favourite Stockholm hotels right now
At Six
This impressive luxury property belonging to Strawberry opened in 2017 and it was one of most hyped premiers in this town in a long time. At Six is located in the very middle of the city, close to a small square called Brunkebergs torg.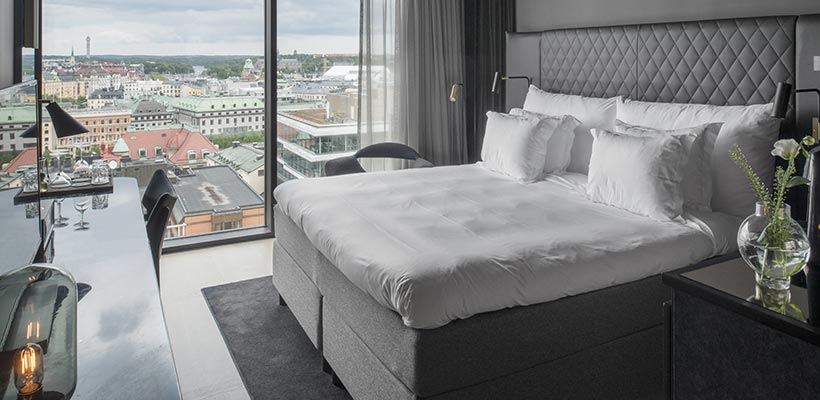 The building used to be the headquarters for one of Swedens largest banks. Today it's been beautifully renovated into a hotel in sleek scandi-style that offers truly excellent service.
The most impressive feature is the enormous roof top bar and restaurant TAK with amazing views over Stockholm.
Scandic Haymarket
Another new hotel in a classic building. This used to be the department store PUB, maybe Stockholms most popular place to go shopping from the late 19th century until 2015 when it was closed and converted into Scandic Haymarket.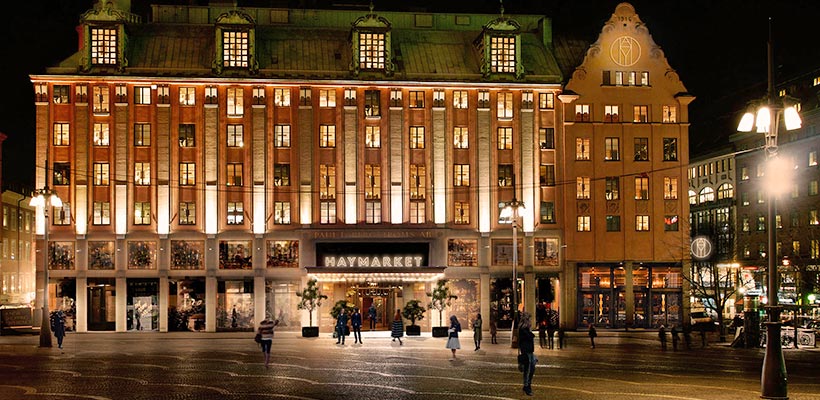 The hotels interior design is inspired by the elegance of the 1920s, which really makes it stand out compared to other hotels in town.
But what I like the most about this place, is the location directly on Hötorget with the markets stalls right outside the doors. You'll also be very close to the main shopping street Drottninggatan.
» Read more and book Scandic Haymarket
Hotel Wellington
This hotel has a lot of returning guests, due to the friendly service. The building started out as a private residence in 1938 and was converted to a hotel in 1967.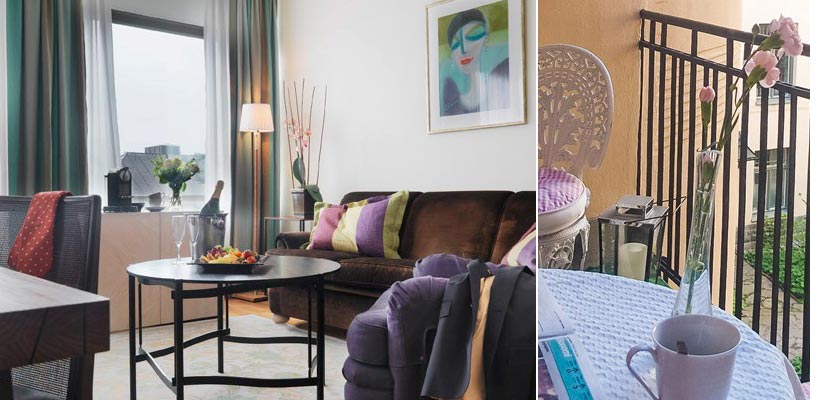 There are 60 rooms, most have recently been refurbished, and many of them have a balcony.
The location in the upscale district of Östermalm, close to Stureplan, is calm and quiet. But you'll be close to everything the city has to offer. One thing I love, is that guests are treated to a free dinner buffet every evening!
» Read more and book Hotel Wellington
Where to stay in Stockholm?
Keep in mind that the city center of Stockholm is quite small. Lovely and charming, yes indeed. And quite small for being a capital city. There's also a very good transportation system with subway, trains and buses covering almost any part of the city.
This means that you don't have to choose a hotel that's located close to the attractions you plan on visiting. You'll get there easily, often within 15-20 minutes, wherever in the city center you choose to stay.
When we say "city center" this refers to what we in Swedish call "innerstaden", the most central parts of the city.
In terms of districts – to make it easier for you when searching for Stockholm hotels – you should go for Kungsholmen, Södermalm, Norrmalm, Östermalm or Old Town. Anything other than that is likely outside the city center.
Hotels in Stockholm Old Town (Gamla stan)
Staying in one of the historic buildings of the Old town can be a different and truly charming experience. The hotels are small and quirky and you'll have direct access to the winding alleys and cobble stone streets.
A limited number of rooms and high demand makes it wise to book well in advance. Keep in mind that the Old town can be a bit crowded during the summer months.
Here are some of our best hotels in Gamla Stan:
Hotels close to the Central station
Staying in this area can be very convenient. When you get in to town from the airport, you'll likely come by airport bus or airport train. Either way, you'll be within walking distance from your hotel.
And when you head out to discover Stockholm, it helps having the main subway station close by. You'll also be close to the shopping street Drottninggatan and other places of interest.
These are all solid choices near the Central station:
Scandic Grand Central
Scandic Continental
Radisson Blu Waterfront
Nordic Light Hotel
Freys Hotel
Stockholm Hotels – facts & tips
In Stockholm City there are around 160 hotels offering a total of 8000 rooms.
Roughly 60 percent of Stockholm hotels are considered to be 4 stars or higher, while hotels with one or two stars account for only five percent of the market.
It used to be quite expensive to stay in Stockholm for international visitors. But the current situation with our currency (the Swedish krona has lost a lot of value compared to most other currencies) actually now makes it affordable.
Three star hotels are in the price range €60-113 (US$65-123), while four star hotels are to be found from €106-242 (US$115-264) and a room at a five star hotels starts at around €174 or US$190. (Source: travelpricewatch.com)
No tipping required at hotels in Sweden
Tipping is not required. The hotell staff do not rely on tips for their income, and there's no tipping culture as in, for instance, the USA.
If you feel like leaving a small amount as a thanks for a good service, please do so. But it's not really expected.
Local expert, travel writer (visited 50+ countries), and I've been living in Stockholm for more than 20 years. My mission with this travel guide is to give you the best possible advice for your visit to Stockholm and to share tips on my own personal favorites in this beautiful city.