Last Updated on June 8, 2023 by Göran Ingman
Sweden has one of the lowest crime rates of any country – and Stockholm is one of the safest capitals to visit. The chance of being victim of a crime is not something that you should worry too much about. [Updated 08-06-2023]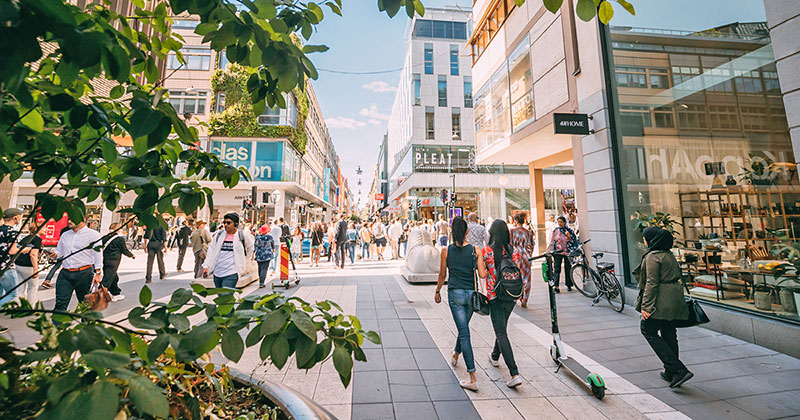 With that said – yes, there are pickpockets and scammers targeting tourists. Yes, your phone, wallet, purse or camera could be stolen. It's not likely, but it can happen. Just as in any major western city that you've been to, or will go to.
But I've heard that there are safety problems in Sweden?
Well, without getting too political, keep in mind that this issue has been hijacked by the far-right movement all over the world, and by the previous American president. Exaggerating criminality and safety is done for political agendas, but this has nothing to do with facts.
If we should, for a moment, look at the actual facts regarding intentional homicide rate, which is one of the few relevant comparisons one can do between countries, Sweden is in place 143 out of 219 ranked countries and territories. USA, in comparison, is to be found in 61st place. To be clear: the less criminality a country has, the higher number it gets.
In actual numbers this means that 6.4 murders per 100 000 inhabitants occur in the U.S. while there are 1.2 murders per 100 000 inhabitants in Sweden.
Looking at this list you'll find that Sweden is safer than most countries In the world.
If we stick to Stockholm, Safe Around gives us the following scores when it comes to safety for travellers:
Overall Risk: LOW
Pickpockets Risk: MEDIUM
Mugging Risk: LOW
Scams Risk: MEDIUM
Transport & Taxis Risk: LOW
Natural Distasters Risk: MEDIUM
Terrorism Risk: MEDIUM
Women Travellers Risk: LOW
I still don't believe you – what about terror then?
Yes, you're right. In 2017 Stockholm experienced an awful terror attack on Drottninggatan, the main shopping street. Five people were killed and 14 seriously injured in a vehicle-ramming attack.
This happened in Stockholm, as well as in Paris, Nice, Berlin, Barcelona, London, New York, and other cities around the world. This a serious matter, but it's not a Stockholm specific problem. In these days, where ever we go, we have to keep in mind that terrorists attacks may occur.
But you have no go–zones and criminality is rising?
No, and yes.
There are suburbs around some Swedish cities, including Stockholm, that have serious problems with gangs and criminality. But these are not so called no go-zones for the police. They are present, and they are trying to get a grip of a situation mainly caused by poor integration.
You, as a visitor to Stockholm, will probably never find yourself in one of those suburbs. And if you do, enjoy the food. It's usually very good.
When it comes to rising criminality rates, it's correct. Some crimes are on the rise in Sweden. But from low levels and sometimes due to the fact that the willingness to report crimes are higher today than before, that's believed to be the case with rape crimes for instance.
We do have an increasing problem with criminal gangs and criminality connected to them, but they tend to fight amongst each other. The risk of getting in their way, while staying in central Stockholm, is low.
Can I trust the police?
You most certainly can. The Swedish police is well trained, efficient, and friendly – as long as you don't commit a crime 😉
The fact that Sweden is one of the least corrupt countries in the world, makes it safe to ask for help or to report a crime.
Safety in Stockholm – a conclusion
Don't worry, just go! You'll have a great time 🙂
For more information, please check out these links:
Local expert, travel writer (visited 50+ countries), and I've been living in Stockholm for more than 20 years. My mission with this travel guide is to give you the best possible advice for your visit to Stockholm and to share tips on my own personal favorites in this beautiful city.