Stockholm Archipelago is a group of three thousand islands, rocks and skerries. It begins only moments from Stockholm. This is the biggest archipelago in the country and the second-biggest in the Baltic Sea.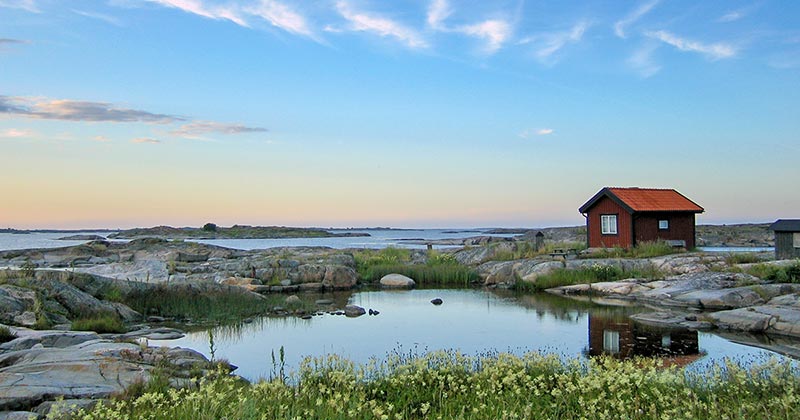 Tourists who wish to escape the hustle and bustle of Stockholm will find that the vibe in the Stockholm Archipelago is much calmer.
At present, ten thousand people live on the islands year-round. The natural beauty of the area is its key attraction, such as its sandy beaches, woodlands, coves and cliffs.
When you want a break from nature, you'll find that many of the islands offer appealing nightlife, as well as rental accommodation options, enjoyable dining and even some shopping.
Stockholm Archipelago – How to Get There
Situated only twenty minutes from Stockholm, the archipelago is a wonderful place to breathe in fresh air and appreciate unspoiled nature, including the tranquil beauty of the deep blue sea.
To get there, you may opt for public transportation.
In Stockholm, SL provides public transport to residents and tourists. You may buy travel cards or tickets from SL and buy or refill your passes at Pressbyrån-kiosks, SL centers, subway stations and train stations.
It's also possible to access the Stockholm archipelago via water taxi, coach charter or ferry. A shipping company known as Waxholmsbolaget operates the public transport ferries.
If you plan to drive to the islands, you should know that some of them are linked with the mainland via road ferries or bridges. Visit the official Trafikverket website to access road ferry timetables for the region.
Top Ten Islands in the Stockholm Archipelago
10. Fjäderholmarna
Fjäderholmarna is actually a cluster of islands, which includes Ängsholmen, Stora Fjäderholmen, Rövarns holme and Libertas. Fjäderholmarna is renowned for swimming, rugged landscape, brewery, smokery and museum.
9. Vaxholm
A municipality that spans a variety of islands within the archipelago. It is the home of the Vaxholm Fortress, which was erected during the sixteenth century to defend the city of Stockholm. The Fortress is now used as a museum which chronicles the history of the structure.
8. Grinda
This island has so much charm and it's one hour from Stockholm on the quickest boat, via Vaxholm. This island is renowned for its inn, which features art nouveau architecture. It's also home to cabins and hotels.
7. Svartsö
One of the biggest "mid-archipelago" islands. When you visit, drop by the country store, which is situated at Ahlsvik's jetty. Svartsö features a summer villa which was built in the 1900s. It's called Svartsö Herrgårdspensionat and it's currently an eatery and guesthouse.
6. Nåttarö
This island is a swimmer's paradise. It's got the best and largest sandy beaches in the Stockholm Archipelago. You'll love Nåttarö's countryside, rental cabins, restaurant and shop. This island is only a half hour ferry ride from Nynäshamn.
5. Väddö
One of the largest islands in Sweden and home to the popular beach and camping site Väddö havsbad. Go over the day, or stay a few nights. If you get tired of swimming in the ocean, there are nice hiking possibilities as well.
4. Möja
This island is traditional, with picturesque harbors and small villages. One key island attraction is the local pub, Wikströms Fisk, which is operated by the only fisherman on the island. Möja is ideal for hiking and biking.
3. Utö
People enjoy this island all year round. It's got appealing beaches, as well as the oldest iron mines in the country. Be sure to visit Utö's mining museum. You may also want to rent a bike or grab a bite at Båtshaket.
2. Gräddö
When you explore this Swedish island, spend time at Kvarnudden beach. You'll also love this island's walking paths and woodland hiking. Visitors to the island enjoy kayaking, canoeing, fishing and BBQ'ing.
1. Sandhamn
The island is part of the outer archipelago. It's a great place to get away from it all, thanks to its pale, sandy beaches and barren rocks. This island does have modern pleasures, including shops and restaurants. It also has walking paths and a museum.
Last Updated on June 27, 2018 by goran